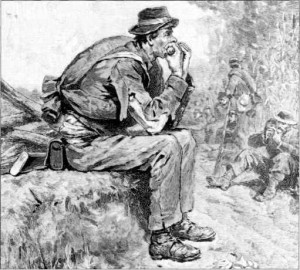 Charles J.C. Hutson was with the South Carolina 1st Infantry serving with Major General William Pender of Hill's Corps, and as they entered Pennsylvania, they traveled on the Turnpike towards Harrisburg. Listening to Hutson describe the march, one would think the Confederates were doing an early version of Sherman's March:
We entered Penn. with as fine an army as was ever enlisted, lived for some time upon the bounty of that rich country, made the inhabitants feel the horrors of war, frightened the mass of the people and finally fought the battle of Gettysburg, the most severely and hardly contested which I remember.
This letter [from the archive] was written on July 9th, 1863 and Hutson was certainly exaggerating his comrades exploits. Their march into Pennsylvania was obviously no Sherman's March, but the letter certainly does talk it up. The death and destruction on the Confederates march was minimal with maybe 2 deaths and one possible rape. Yet to at least one Confederate soldier it felt as it they were reeking destruction. His comments may be the result of licking the wounds, or he truly believed they took their toll on the Northern Citizenry. Lee of course issued General Orders Numbered 72 admonishing his soldiers from plundering Northern civilians and for the most part his order was respected. Lee wanted his army to appear as more "virtuous" as their Northern counterpart, which of course would prove to be impossible.
Note: Steven E. Woodworth, Beneath a northern sky: a short history of the Gettysburg Campaign, (Rowman & Littlefield, Mar 30, 2008 ),23-25