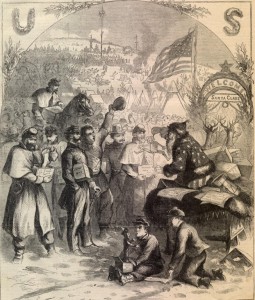 Christmas was often a time of reflection for Civil War soldiers as their hearts and minds fixated on past and more joyous times. In spirit of the Holiday we here at Soldier Studies wanted to share with you some touching letters dealing with Christmas.
Samuel J. Bradlee took pen in hand on Christmas Day (1864) and wrote home to his beloved wife, "Just four short years ago tonight you and I solemnly plighted our faith to each other, for so long as we both should live – you my darling are now far, far away from me in our Northern home." Continuing his thoughts, he drifted back to those days and his senses came alive, "how swiftly memory brought back the last Christmas Holiday and contrasted it with this – It seemed as if I could almost hear the Christmas Chimes." Bradless was in the Massachusetts 10th Artillery, was wounded several times, received promotion and mustered out with his unit in 1865 when he returned home to the love of his life. (Link)
In our database if you performed a keyword search for "Christmas" (Here) you would find dozens of letters to write an article about how soldiers felt on the most celebrated holiday in this country. The men called it Christmas and their thoughts were not just of home, but of their Lord and Savoir. They conveyed hard times, good times and sad events. They were at times uplifted by the spirit of the event, or their words drifted solemnly with random reflections.
Samuel S. Dunton wrote home in 1864 from the hospital that he was feeling better, hoped to survive the war, and appreciated the socks he had received. (Link) Edmond Hardy Jones noted his feelings about Christmas in a letter home to his wife Susan back home in Georgia in May 28th, 1864, "I do want to se you all so bad I dount know what to do. Keep the …… a going to school if you se they learn any worth speaking of. I hope I will get to come home by Christmas and se you all wonce more." Jones served with the 64th infantry. (Link)
In January of 1863 William A. Louks of the 56th Ohio Infantry wrote home from the hell hole of Helena, Arkansas: "Christmas I would liked to have been with you very well but as things are it could not be though it would seem like it would be almost be the hight of happiness to be away from the drunken officers and with you for one day but such a thing is impossible so there is no use of talking of folly." His letter started off noting the loss of life as Grant started to make his move against Vicksburg, "many killed and wounded and left in the hands of the Rebels." (Link) One soldier wrote that when mail did finally arrived, battle hardened grown men, "are as pleased as a party of children Christmas morning." (Link) A happy soldier recalled the ceasefire along their lines and a return to camp, "Spent the evening singing, making speeches, having a good time. It was late when the tumult ceased and we lay down for a little rest and sleep." (Link)
Though often battle lines were subdued during the holy day, the war had a tendency to interrupt a soldier's ability to worship, "There was considerable firing over in the rebel lines for which we cannot account. The bands are playing till midnight or after. I suppose to welcome Christmas Eve." (Link) There was also an abundance of suffering, "we spent a hard Christmas & New Years," declared a soldier Wisconsin stationed along the Trans-Mississippi. (Link)
CHRISTMAS 1862
Like all historical events change over time is very relevant and important when assessing those events. Confederate soldier Spencer Glasglow Welch serving in the 13th South Carolina, noted just days after Christmas in 1862 that, "The Yankees are certainly very tired of this war. All the prisoners I have talked with express themselves as completely worn out and disgusted with it. " Situated along the line near Fredericksburg he continued, "The men do not even have their guns loaded. The two sides talk familiarly with each other, and the Yankees say they are very anxious to have peace and get home." (Link)
Also near Fredericksburg in 1862, and not far from Welch, Confederate Tally Simpson, serving in the 3rd South Carolina, described Christmas day to his sister, "This is Christmas Day. The sun shines feebly through a thin cloud, the air is mild and pleasant, [and] a gentle breeze is making music through the leaves of the lofty pines that stand near our bivouac. All is quiet and still, and that very stillness recalls some sad and painful thoughts." (Link)
In 1862 the hopes and fears of many were subdued as men were still filled with a strong sense of pride, patriotism, and determination. One Union soldier wrote from New Falmouth VA, telling his father, "Yesterday (Christmas) was as quiet in our camp as the most strict in military discipline could have desired. I thought of home and desired earnestly to be with you and I know that the thoughts of thousands were that day with the army." (Link)
Finally, on December 25th, 1865, Thomas Martin Tatem of the 147th Pennsylvania Infantry, most likely summed up the thoughts of almost everything, blue and gray:
"to day is Christmas the second one for me in the service. I am on guard on the north side of the camp. On last Christmas 6 of us had a dinner and where are they now – two with the Co. J, Graham and my self. Sgt Smith is in his grave died of wounds. L. A. Rolb lost a leg the same day and the others W. McLaughlin and C. Andre in the hospital. Such is the fate of war." (Link)