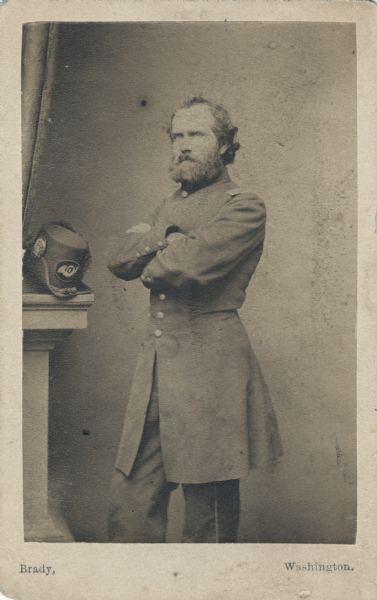 Captain Nathaniel Rollins of the 2nd Wisconsin Infantry kept a daily diary throughout the Civil War. Parts of the diary are available here at SoldierStudies.org. Rollins diary is informative, at times passionate, and also revealing of the typical Civil War soldier. During his correspondences he provides a comprehensive portrait of the daily life of a soldier in the Iron Brigade. During the battle of Gettysburg Rollins was taken prisoner and spent the remainder of the war in Confederate prisons. Starting today we will follow along with Captain Rollins and relive his journey and experiences of Gettysburg and after. (Source)
June 30th, 1863: We have finally reached the last day of June. This morning at 8 we moved and after marching about two miles crossed the line into Pennsylvania. This is the first time since the war began that we have been obliged to go into a free state. Tonight we are encamped in a wood some two miles north of the state line. The people are loyal and seriously in earnest. The weather continues wet, rains at night and showers during the day. The Regt. was mustered today by Col. Fairchild.
It is important to note Rollins observance of being in a "free state." The Army of the Potomac was used to being jeered and sneered at, however, as it arrived in Pennsylvania it received a warm welcome. Locals cheered them on and waved the flag in honor of the men, this "put more energy in the soldiers' step." After a hard and toilsome march they neared the unexpected battlefield.