This is a fairly unique letter in that it takes place after the war and includes some nice reflection on the part of a Confederate soldier. The letter is written by Francis M. Brown who appears to be very loyal to the South and proud of his service. However, there are two Francis M. Brown's to be found, one in the West Virginia 12th Infantry and one 77th Virginia Militia. The West Virginia unit was a Union regiment so it seems this Brown probably served in the 77th Virginia. Interesting comments by Brown about his pride in being a Rebel and his description of what was happening with blacks. As this letter was written post war, I decided not to include it in the database.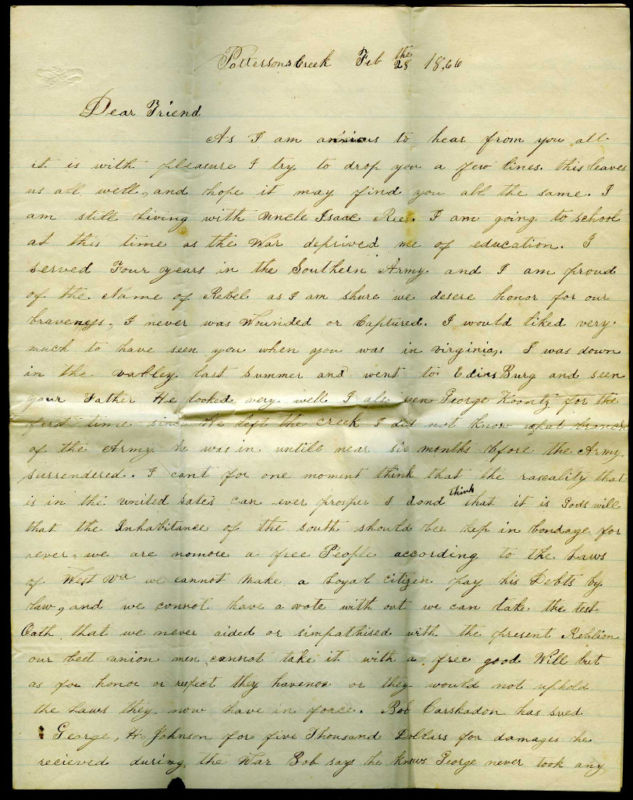 Patterson's Creek – February the 28th, 1866

Dear Friend,

As I am anxious to hear from you all it is with pleasure to try to drop you a few lines. This leaves us all well and hope it may find you all the same. I am still living with Uncle Isaac Rees. I am going to school at this time as the War deprived me of education. I served four years in the Southern Army and I am proud of the name of Rebel as I am sure we deserve honor for our braveness. I never was wounded or captured. I would liked very much to have seen you when you was in Virginia. I was down in the valley last summer and went to Edinburg and seen your father. He looked very well. I also seen George Koontz for the first time since we left the creek. I did not know what branch of the army he was in until near six months before the Army surrendered.

I can't for one moment think that the rascality that is in the United States can ever prosper. I don't think that is God's will that the inhabitance of the South should be kept in bondage forever. We are no more a free People according to the Laws of West Va. We cannot make a loyal citizen pay his debts by law, and we cannot have a vote without we can take the test Oath that we never aided or sympathized with the present Rebellion. Our best Union men cannot take it with a free good will but as for honor or respect they have none or they would not uphold the laws they now have in force.

Bob Carskadon has sued George H. Johnson for five thousand dollars for damages he receiving during the War. Bob says he knows George never took anything from him but he is able to pay the damage and he shall pay it if he (Carskadon) can make it of off him by law and there is not much doubt but what he will make George pay the amount buy the West Va law. George was a soldier in the Rebel Army. He is Okey Johnson's son. Don't you think we have very fine laws in our glorious Union? James Carskadon is in his glory now he has a lot of free Negroes around him a working for fifty cents per day and they can hardly keep alive at that price for it will take fifty cents to keep them in bread and meat the way everything is selling and therefore will not have much left to clothe their families as they all have families. It is no wonder they are in for the Negro freedom, it is to their advantage as they can defraud and cheat the poor ignorant things.

Hampshire County is divided and we live in Mineral [County]. The South Branch is said to be the line the western and is Mineral and the Eastern end still remains as Hampshire Co. James Carskadon took an active part in its division. Conrad I. Umstott is going to move to Illinois in a few weeks. His sale comes off on the fifth of next months. I am very sorry he is going to leave for he is a very good boy, but would rather live among Yankees than to live among half Yankees. I have glory in his spunk.

Old Benny Leatherman bought his farm for the amount of 25 hundred dollars. There is a great deal of moving from place to place. Henry Head owns all of Sheetz town and the Bane farm above there two and James Sheetz lives in Romney. He is a merchandizing there. Frederick W. Sheetz married Miss Susan M. Davis, old Sammy Davis's daughter. They were first cousins. I am still single yet and expect I will have to come out to see you and hunt me up a wife if you have any ladies to spare. I want one that is a good Reb for I don't want anything to do with Yankees. Tell Marthy to pick me out one.

I am glad I can inform you that President Johnson has vetoed the Freeman's Bureau. He says this is no time for amending the Constitution for the Constitution was good enough for anyone before the War. I think so too for I would rather live under a monarchy Government than the United States for the English Government is a King to this. Your Uncle James Parker lives with his son-in-law, A. Johnson. He and Aunt Jane is both well. He was the greatest Reb I ever seen and the Yankees took him to prison and swore him in '61 and then y said he violated his oath and was about to take him again and he run to Dixie and then slipped back to see the people and they took him again and kept him until last August. They had him in prison somewhere near twelve months. He looked very bad when they released him.

Thornton is living with Mr. Johnson. He was Lieut. In Co. F. 7 Va Cavalry, Rogers Brigade. He was prisoner for several months. He was released last summer after the Surrender of General Lee's Army.

James Bane lost his leg in the Southern Army. He caught cold in it this winter. It gathered and broke. He suffered very much with it, but it is well now. Again he talks of going West, but I don't know whether he will or not. The state of Virginia has suffered a great loss of private property since this War, more than the people can replace in this generation. I have been over most of Va and seen the destruction. I seen the Yankees Fire the buildings in the valley. I was on top of the north mountain when they commenced burning. I would liked to had it in my power to a pushed them in and let them burn with the barns & c, but I was cut off from my command as I had been home and was on my return when that burning commenced.

Aunt Eliza is well and can laugh as much as ever. Alfred has been in delicate health for two or three years but is better now.

Stock is very scarce and high here. The border counties are relieved from back tax as they have suffered from the effects of the War. I forgot to tell you that the Court House of Mineral Co. will be at New Creek. I am getting tired of writing. I could tell you more in ten minutes than I can write in one day. You and Marthy must try and get in and see us as soon as you can. You need not be afraid of this Senator now for I don't think he will have you molested now. You will please excuse bad writing as I am in a hurry. You will please answer soon. Direct to Frankford, Mineral Co. Va in care of Wm. Rees, esq.

I remain your most obt. Serv—Francis M. Brown

P.S. Aunt Eliza wants Marthy to write to her as soon as it is convenient. Your obt. Ser F.M.B.