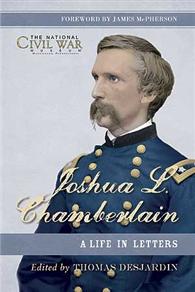 Just recently published by Thomas Desjardin Joshua L. Chamberlain: The Life in Letters of a Great Leader of the American Civil War deals with 300 previously unknown letters from Chamberlain's personal correspondence, which comprises letters sent by or to Chamberlain from his college years in 1852 to his death in 1914.
From the Published:
The first 100 letters shed light on Chamberlain's formative years and his courtship with Fannie Adams, which has been the source of much speculation by scholars. The final 200 letters reveal insights into Chamberlain the Union commander and the aftermath of the war. Chamberlain's image can be found on everything from historical art to sculpture, from t-shirts to clocks, from bobble-head dolls to snow globes. Despite all this attention, there is still a lot about Chamberlain that most people do not know. His life is a remarkable story of perseverance, tragedy, and triumph. From an insecure young man with a considerable stuttering problem who grew up in a small town in eastern Maine, Joshua Chamberlain rose to become a major general, recipient of the Medal of Honor, Governor of Maine, and President of Bowdoin College. His writings are among the most oft-quoted of all Civil War memoirs, and he has become a legendary, even mythical historical figure.
Ever since Ken Burns reintroduced the Civil War public to Chamberlain and his exploits on Little Round Top he has probably become one of the more popular historical figures of the war. I hope to get a review copy soon!