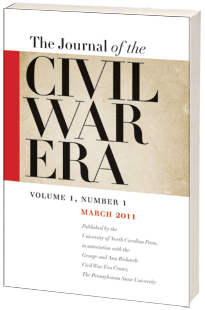 A month or so ago I joined The Society of Civil War Historians and recently received my issue of The Journal of the Civil War Era, which all members receive.
From the Publisher:
The University of North Carolina Press and the George and Ann Richards Civil War Era Center at the Pennsylvania State University are pleased to announce the 2011 launch of a new publication, The Journal of the Civil War Era. William Blair, of The Journal of the Civil War Erathe Pennsylvania State University, serves as founding editor.

The journal will publish the most creative new work on the full range of topics of interest to scholars of this period. Besides offering fresh perspectives on military, political, and legal history of the era, articles, essays, and reviews will attend to slavery and antislavery, labor and capitalism, popular culture and intellectual history, expansionism and empire, and African American and women's history. Moreover, The Journal of the Civil War Era will be a venue where scholars engaged in race, gender, transnational, and the full range of theoretical perspectives that animate historical practice can find a home. By bringing together scholars from areas that now intersect only sporadically, the publisher and editor will galvanize the larger field of nineteenth-century history intellectually and professionally.
It looks to be a nice edition to the field. I especially liked the Book Reviews section, there were over 30 pages of reviews. A good review section is always helpful in deciding which books to get.
My favorite essay in this issue is "Imagining Slavery: Representations of the Peculiar Institution on the Northern Stage, 1776-1860," by Melinda Lawson. Her article is unlike any that I have read and does a sensational job showing how the change in the depiction of slavery through stage plays represented the changing mood concerning slavery in the country. Stage plays depicted the persistence of racial stereotypes and racism. If I can find the time, I will want to us this in my A.P. Class next year as the use of plays will be of interest to many of my students.
I think the publication will be a good social history presentation, but only concern is will "soldier studies" be left out? We will get a lot of Civil War "era" material and that's great. But I hope that the editorial board is open to good papers on soldiers and their experiences before, during and even after the war.
-Chris