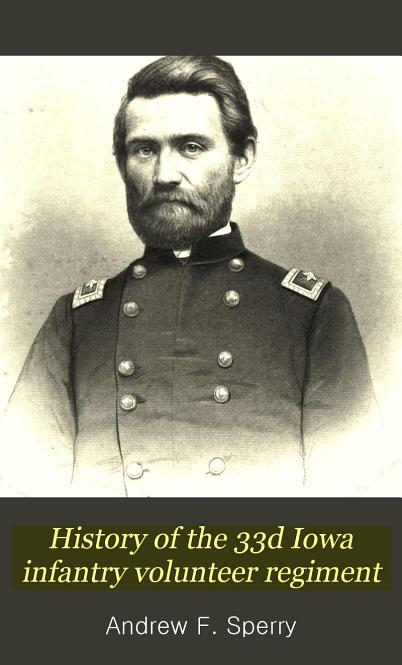 History of the 33d Iowa Infantry Volunteer Regiment, 1863-6 (Mills & co., 1866), By Andrew F. Sperry is unique in a couple of ways. First, it was written right after the war and published in 1866. Though an initial surge of Regimental histories were published in 1865-66 (I have documented 32), the number drops off significantly until the late 1880s. Second, A.F. Sperry is not just a "compiler" but a storyteller and a historian. A lot of these old regimental histories are not for everyone. They are rigid, bland, overtly "stuffy" and formal in writing style. In a word, they are "boring." Often they were written to be nothing more than a "compilation" of a regiment's exploits. But Sperry's history is fluid and readable. There is also a modern reprint with a nice introduction and a superb editing job by Gregory and Cathy Urwin and published by the University of Arkansas Press.
Sperry is able to weave into the narrative a lot of personal notes and observations. For example, on page 31, during his "Battle of Helena" chapter he depicts what he calls "bobbing":
At the commencement of the battle, when the bullets first began its whiz scatteringly among us, we "bobbed" considerably. This "bobbing" is a purely involuntary motion, like the winking of the eye, when a foreign substance approaches it. Sometimes it seems almost impossible to keep from "bobbing," though every man may laugh at himself meanwhile, for doing it; but when the bullets come thick and fast the motion as involuntary ceases. There seems then to be no room to dodge. "Why don't you stand up straighter?" said one to a man who during a heavy fire of artillery, was crouchingly passing along behind a breast-work. "There isn't room," was the expressive answer. In the hottest of the fire, no one seems to think of dodging, but let the storm of bullets slacken much, and the "bobbing" immediately re-commences.
Lots of anecdotes and keen insights make this an extraordinary regimental history for the time period.