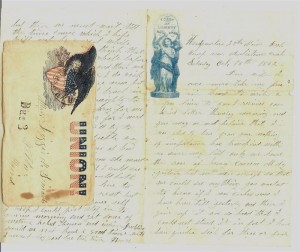 From Ebay:
A small and interesting group of 20th Maine Civil War letters from Private Henry C Simonds of 20th ME Regt Company C to his wife Lizzie Simonds of North Turner & Wilton, Maine

Today it's highly unusual to uncover anything of substance related to the 20th Maine Volunteers . The 20th Maine is of course well known across the US . With its remarkable defense of Little Round Top at the Battle of Gettysburg, as well as its esteemed overall fighting record, it is one of the most famous Civil War Regiments . Books and movies have dealt with the 20th Maine's compelling story and its famous Colonel Joshua Chamberlain. .

Private Simonds mustered in with the 20th Maine Vols in August of 1862 at Camp Mason in Portland.

He died in December 1862 from what appeared to be typhoid fever..

There are 8 war period letters written here by Henry Simonds while a member of the 20th ME covering the period August 21, 1862 thru December 6, 1862. The final 2 letters were dictated by Henry to a Hospital attendent

There is also one letter written by 20th Me Capt C C Farrar informing Lizzie of her husband's imminent death on 12/9/1862 .

Also included are 3 pre Civil War letters written by Henry to Lizzie as well as 2 letters written to Lizzie after Henry's death by Lizzie's sisters.
Soon to be added into our database:
Letter#1 Camp Mason, Portland My Darling Wife,

I now attempt to write a few lines to you. I write to you because the town bounty of $100 is, I suppose, ready for you. The first selectman of Hartford came down here when I came for the purpose of fixing about the bounty and to find out where we wished it paid. So you see I gave an order to pay it to you, so all that you have to do is go to the Town Treasurer and tell him what you want and get the money and you will have to sign a receipt for it. It will be all right so you will have to get father or somebody to carry you over there for you can't send for it. I made it payable to you.

Oh Lizzie how lonesome it has been since I came back. I think of you and little Estelle all the time. You don't know how I felt but then I trust in God that I shall return safe to you again, and then I felt bad to see some of our boys come back after they had been home as tight as they could be.

?? One of my mess mates that is a Professor came into camp drunk. Oh what a shame it is that one should set such an example before our comrades, but my prayer is that God will set all things right and that he may turn the wicked to praise him. And now Lizzie I must tell you that Monday night after I got back, were called out on dress parade and received our orders to march from this place on Saturday Aug 30. That is next Saturday. So you see if we don't get counter orders, we shall soon have to march. But I don't know as it will make much difference to us, we shall go to camp of instruction.

I see Anna Prickford when I came down. She came over to dinner. She said she looked into the hack and saw me so she came over and spoke to me. She had a lot to inquire – Estelle and the rest. The mail is just going and I must stop. My love to all so good bye this time from, Henry.

Letter #2 Headquarters 20th Regt Sept 24, 1862 My Darling wife,

This afternoon finds me once more trying to write a few lines. It is not very often that I get any leisure and when I do, I have to spend it writing to you. For my thoughts are all the time with you although I am separated from you in body, and darling you don't know how often I wish I could see you and our little lady.

I can't think of you without my eyes filling with tears, but I live in hope all of the time that the time is not far distant when I shall see you again, and it seems to me that I shall be perfectly happy. But here I am away from all my friends, but then I trust I am engaged in a good cause and I will trust in that arm that has power to save and protect me and you.

We have not seen anything of importance since I wrote, but we are in the tiniest field. A camp life is very good until we think of home and friends. We heard last night that our folks had taken Richmond with 5,000 prisoners. Don't know if it is so, but if it is, it will be a good thing for us and will do something towards bringing the war to a close.

The rebels are on the other side of the Potomac yet, but I don't know how much force they have there. We are in the same place that we were the last time I wrote, and I believe that there has been no attempt to cross the river since. The 16th Regt is over about 5 miles from us and I went over there yesterday to see David and found that he did not come out with them. I see Warren and Charlie Small and Warren said that David had enlisted again with the 9 months men and that Charlie had too.

But I never should know anything from home. I have not had a letter since I left Maine. The mail came into the Regt. yesterday and I was very much disappointed in not getting a letter. Oh Lizzie, why don't you write? I think it is strange that I don't get a letter now. Lizzie dear, do write. I want to hear from home, and if you don't intend to write, do for pity sake write once and let me know and direct your letters all until I inform you differently to Washington DC, CO C , 20th Regt. Me Volls.

A letter directed in that way I shall get. Let me be where you may write all the news that you can think of. Give my love to all and especially to mother. So good bye. I remain as ever yours in love and sincerely. Henry C Simonds

Kiss little Estelle for me.

I have your picture all broke to pieces and I want you to have one taken and sent to me. Have one taken on a plate like Estelle's and then it won't break.

Letter #3

20th Regiment Co C Sept 30th, 1862

Dear Wife, I now take pen in hand to write you again although I have not heard from you yet except I got a letter from father written the 21st. You had first gone to Wilton and had got my letter. I wish I could see you today but I can't and it would do me some good to get a letter from you.

It does seem strange that I don't. I guess that you have forgotten that you have a husband, haven't you? I know if you knew how much good it would do me to get one, that you would write to me.

We lay here yet near Sharpsburgh. Nothing of importance has happened to us lately. Our Reg't is out on Pickett duty today. The cooks do not have to go so you see I am in the camp. It is hard work to cook here for we don't have anything to do with that is convenient and some 50 of the regt. are also in camp that are sick. Some are really so and some I think are faking ? it to get out of doing duty for some of them eat as much baked beans as a well man ought to.

Oct 1st , 1861 Good morning darling. I was called away yesterday and did not have a chance to finish so I will try to do so this morning. I was about to tell you that two of the boys in our reg't was just wounded by the accidental discharge of a gun. One through the bowles and I guess will die and the other a flesh wound in the arm and two or three days one got his hand shot off by his own carelessness while on guard. Thus three of this reg't have been wounded this week by carelessness.

It does make me mad to see how careless some of the boys are with their guns. We have no news of importance to write at present – only I understand that the rebels are trying to come to some terms of peace. I don't know whether it is so or not but I hope so and I hope it will be done so we can go home for I had rather be at home on our farm with you you and little Estelle than to be anyplace else in the world and I trust that you had but it seems strange that you don't write to me.

It does seem that a letter from you would do me so much good. Did you send and get a paper as I told you to. I hope you have so you can get the news for it must be that it will be interesting to you now to read the war news and then it is I guess more interesting than common at present time for I think it is coming to a close soon I am in hopes now that I shall be at home in the spring and have time enough to do the spring's work on the farm. If I am not, I shall feel disappointed.

How is mother and the rest of the folks? I want you to write all about all of them in Wilton. Our boys have not got in from pickett duty yet. I expect them all of the time now. Kiss little Estelle for me and take a lot of ?? from her for me. For if I could see you, I guess that you would both get kisses as much as you would want. Give my love to all the folks and especially mother and tell them not to forget me This from, Henry

Letter #4

Headquarters 20th Me Regt Co C Camp Near Sharpsburgh MD

Oct 3, 1862

Dear Lizzie.

I received your letter of the 21st this morning Oct 3 and I tell you I was glad to hear from you as I have not since I left Maine and it has seemed so strange that I should not and now you have not written whether you received the money that I sent you or not; nor how it is about the business of any kind. I would like to know how the steers was get along with and all the other things on the farm, the apples and the potatoes, etc

Father wrote me about selling the hay and building the fence and about the three dollars. I am sorry that there should be any trouble between you but I can't help it now. So let it pass. Perhaps it may be all for the best to pay that and get the obligation and then there will no trouble about it afterwards. So don't feel too bad about it. If it is paid and the obligation taken up, that will be the end of it.

I want you to tell me now if you got the money that I sent you from Portland and where you paid it out and how much you have got now. I kind of want to know as much as I can how the business is; so as to know what calculations to make.

And you spoke about working out. I shall not consent to any such thing. You stay to some of your folks and tell them that you will pay your board. I think I can do that without your working out- as long as I am in the army.

I wish I was at home now. I know I should before I came, but then I thought it was my duty to come and I think so now although it is not a very pleasant life to live in a camp life but somebody has got to do it, and I am no better than anyone else. It is pleasanter to be at home with my darling Lizzie and baby. It does make me feel so when you write about the little coming witch. I know she is coming. I am very sorry you are in such pain.

Do be careful won't you and don't get sick for I am not there to take care of you. Now stick to it and wean little Estelle by all odds for I think it is too much for you to nurse her. I think you will be better.

I wish you could come and see us here for 1 day. I should not want you to be obliged to stay here. Where we are, you can see the tented field as far as one can see. Only think just little tents big enough for two men to crawl in and lay down and liable at one hour's notice to take our house on our backs and march all day and then stick it up for a night's lodging. It may look queer to you, but it don't after one has been here a while. The fields look bare, everything else having been ravaged here by the rebels

before we drove them off and then our own army destroys everything there is left. So you see that go where we will, there is nothing but desolation. You cannot think what an awful curse it is to country to have an army in the country. I had thought of it till I see it.

Aaron is at Anapolis.He was taken prisoner by the rebels and marched 4 days without anything to eat and now is released on parole and now is at that place awaiting his destination. I hope that he will be exchanged and go to his regt again. If he is not, he will sent out west to fight the Indians. That will be a bad place.

I will stop now as I got to go to cooking dinner for the boys. I will finish as soon as I can. This cooking is pretty hard work, but I don't have any other duty to do, so I can get along with it pretty well.

Oct 4 – Darling I will now resume my pen and finish. I have not much of importance to write but then I will try and do something. The Regt is out on a river. The President is here today and we shall see him. So that will be worth something.

It looks very much as if the war would close. I think that there will be a great effort to come to some terms of peace this fall and send us home for the winter. I hope so, don't you. I bet we would have a good time. Now Lizzie don't think too much of it or put too much confidence in it for I don't want to disappoint you, but I think it is more than probable that it will be so.

Give my love to mother & Elfen's folks and all the rest. I should like to see those twins ???. Kiss little Estelle for me. Good bye for this time. Henry

Letter#5 Headquarters 20th Me Regt Camp Near Antietam Creek Oct 12, 1862

Dear Wife,

It is with pleasure that I once more attempt to write you a few lines. It is Sunday I suppose with you but here we have hard work to know when Sunday does come. Every day is alike pretty much. I wish that I could be at home with you today. It would seem so good, but it is otherwise ordered for the present. We must subsist. If I had not you and little Estelle to think of, I don't know what I should do, but now I can think that I have someone to love and love me.

If I am way out here away from friends and no one to care for me, it would be hard for me to be sick- out here and no loving wife to ask me how I felt and fix-up things to make me comfortable.

One of our Company that we left behind in Washington sick is dead. The Capt. had a letter telling him so from the Hospital and a Capt. in one of the companies of this Regt. died the other day. That is all that have died that I know of, although a good many are sick- some with the measles, and some one thing and some another.

My own health is good as common I keep. About some of time I feel first rate and some of the time I don't feel so well. Today is one of those days I have considerable of a headache, but you need not worry any about me for if I should be sick, I would let you know all about it. And when I tell you that I am well , you may depend upon it being so.

I don't think that there will be much more fighting for I think that this war will be settled with and it, although there is great deal of fighting now almost every day in some parts of the country, but not very near us, and I think it is a ??? if I ever see any more fighting. I hope not for I have seen enough in this battle that I see here and when you read of the battle of Antietam Creek in the papers, you think that I was there and you get it right for I was there and I see as many killed as I want to see.

I have wrote to you about it before. I tell you I see men fall down with like grass before the scythe. Our first Lieutenant went onto the field after the battle right where I see so many fall and counted 900 dead and wounded rebels in one file right in ditch what we call rifle pits here dug up and thrown up to get behind and fire over.

This is said to be the hardest battle of the war. Now darling don't give yourself any uneasiness about me but trust in the Lord and He will sustain you. and pray for me always and write to me. It seems strange that you don't write more for I have not had but one letter from you yet and I guess I have written as much as 10 or 12. I don't know for certain. Now write and tell me how you get along. Lizzie, these marches are hard and we don't get regular rations on the march, and if it was not for having a little change with me, I should go hungry sometimes for you know that my appetite is not very good at all times and I can't eat everything. So I have to buy. I have earned and get some change in washing and at the jobs for the boys. So that it has kept me along now. Most of them are out of money and I am pretty near. I have got only 15 cents left. When I am obliged to buy anything , I have to pay a big price for it is so that money does not go a great ways.

Perhaps you may think that I have been extravagant. Perhaps I have, but if you should see how we soldiers have to fare sometimes on the march, you would not blame me for getting something that I could relish if I did have to pay money for it.

I know some boys that left Portland with 60 dollars and have been to me to try to borrow money. Now Lizzie, I want you to send me a little for I don't know when we shall get paid off. If you can send me 3 or 5 dollars and send a Treasure note or else a bill on the International ?? as all money from ?? don't go good here. The Treasure note is good anywhere. You need not be to any trouble about that kind. I can get off any bank that is known to be good. Oh Lizzie, I do wish that I could see you tonight. It would do me so much good. Now be sure and write and write two or three times a week . The more the better for I always want to hear from you. Give my love to mother and all the rest of the folks and have your picture taken and send it to me. Does mine look natural? I have broke the glass of yours and feel bad about it for it does not show your face good. It is all broke up so do send me won't you? Good bye this from Henry.` `

Letter #6 Headquarters 20tj Maine Regt. Camp near Antietam Creek Saturday Oct. 18th, 1862 Dear Wife,

I once more take my pen in hand to write a few lines to you. I received your kind letter Thursday morning and you may as well believe that I was glad to hear from you. Nothing of importance has transpired with us since my last only we have heard the roar of heavy cannon all day yesterday but not near so that we could hear anything.

You wanted to know if I was cook now. I have been till yesterday and then I give it up. It was so hard that I could not stand it. In fact I have been quite sick for three or four days and now I don't feel very well. I have had bad pain in my head and I feel sore and lame all over. If I was home, so you give me a good sweat, I should feel better, but you need not worry about me for I shall get along I guess without being much sick. If I do not , it will be all owing to the climate and if that does not agree with me, I shall try to come home.

You spoke about our not trying to pay for the place. Now it is just here you know that the hundred dollars must be paid anyway. Now after that is paid, if we give it up, we must lose that. But you may ask ?? what he will propose to do stating how many acres of land he has and how much I shall have to pay.

That is he had better write me all about it and then if I think it will answer, and our place can be sold so as to save ourselves, I will decide what to do. Perhaps it would be for us . Just let me know another thing. Is there a sugar? orchard on the place and how much I have forgot. I suppose that you would rather live up there than to live on our place.

Well now, don't get too anxious about it and make an agreement before I know about it, nor pay any money on it unless I order it. I wish that I was there with you now. I would not care where we was, but then we must wait till the time comes which I hope will not be a great while at most for I don't think that it will be a great while before this will close, and then we can have things better.

I do wish we were at peace now but there darling, we must trust in that arm that is mighty, to save us.

Darling do pray for me while I am so far away. For I need your prayers and I will try to pray for you in my feeble way. Kiss little Estelle for me. Oh how I want to see her. I know she must be pretty and cunning. If I could see you, I guess that you would both get a kissing. Give my love to mother and all the rest, but keep the most for yourself. I wish I could just step in tomorrow morning and get some of mother's baked beans and Indian pudding. Would we not have a good time? Well I must say good bye this time, Henry.

Letter #7 Dictated by Henry to Attendant

United Sates Hospital @ Paterson Park Baltimore, MD

November 17, 1862

My Dear Wife, it is with pleasure that I take my pen in hand to inform you that I was taken sick just as I received your last letter with the measles . Although I was sick, I was glad to hear from you that you was well. May God grant that you may have your health for it is a great blessing to anyone. I am quite sick, yet hope that in a few days to get up and be round with the rest of the boys. I have been sick about four weeks now. I am not where I was when I was first taken sick. I was then at Antietam but since that, they have moved me to this place where I now am and shall be till I get smart again which I hope will be soon.

You will find a letter in the post office directed in my name though a mistake of the man that directed it. I want you to send me some more money and do not send any one dollar bills, nothing less than two, for they are not so good here. Please direct your letters to H C Simonds, United State General Hospital at Patterson Park, Baltimore, MD .

Letter #8 Dictated by Henry to Attendant

Baltimore Dec 6, 1862

Dear Wife

I received your last letter and was glad to hear from you. I am getting going slowly. The Doctor thinks I have been very sick with the typhoid fever. But they think I am gaining slowly. I want you to write often as possible and let me know all the news, etc. I suppose you have got plenty of snow there and no doubt it is cold enough. It is quite cold here.

Borrow no trouble about my having good care, for I have the best of care. Everything you can ask for I have. I trust I will be out in a few days or perhaps it will be a few weeks before I get around much. Write often please, for it gives me comfort to hear from you often. I will close by telling you good bye. From your husband, Henry C Simonds Patterson Park Hospital Baltimore, MD

Letter #9 Written by Corp? C C Farrar ( 20th ME Regt Co C ) Baltimore Dec 9, 1862

Mrs Simonds,

My pen I take in hand to inform you of the illness of your husband. It is useless to try to Blind the matter. Your husband now lies on the point of death- beyond all doubt. As these sad tidings reach you, he will have gone through with all his earthly troubles. Gone to that place of Rest where sorrow in never known..

He stands his trouble patiently Trusting in Him who is the gives of all Earthly Gifts. Never did I see a man reconciled death . He feels that he dies in his Country's Cause. Then why should you mourn when you realize that your husband dies in his country's cause. When you realize that he was protecting the flag which our Forefathers fought and bled for.

It is hard to part with an earthly companion. Yet in him we feel that the cause in which he dies is a Holy One and a Godlike One. We ought to feel glad to have our names handed down to the next generation. As for me, I want no better epitaph on my grave than that of Dyed in the Cause of My Country.

I am a member of the same Regt and of the same Company. I have been with him ever since he has been sick and have done all that I could to make him comfortable and happy.

I Am Truly your Obedient Servant. Cap C C Farrar

Addenda To the Letter: ( Written on Back Page)

David has just come from the office with this letter and mother wanted to know how Henry was so she opened it. I know you not prepared for such a letter but you must try and bear it as well as you can. I know it is hard and we all feel very bad for you and are willing to assist you any way that we can. If you would like to come to Wilton, David says he come down after you or Daniel will. If you will write when you want to come, we would like to have you come. Be sure & write as soon as you can. from Fanny