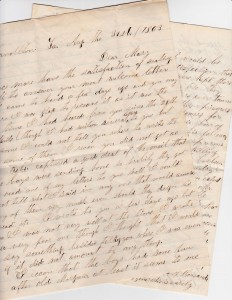 Colonel Peter Kinney organized the 56th Ohio Infantry Regiment at Camp Morrow, Portsmouth, Ohio, where it was mustered in on December 12, 1861. During Grant's Vicksburg campaign the regiment saw action at Port Gibson and Champion Hills, capturing 2 guns and 125 prisoners. At Champion Hills it lost 135 men killed and wounded. After the fall of Vicksburg, it followed Johnston to Jackson and next moved to Natchez, joining Banks' Red River expedition where it endured heavy casualties in the retreat with a number of officers and men captured.
Regiment lost during service 3 Officers and 55 Enlisted men killed and mortally wounded and 2 Officers and 156 Enlisted men by disease. Total 216.
On Monday, August 31st, 1863, while stationed in Carrolton, Louisiana, Louks wrote a letter home to his wife Mary.
The letter is fascinating for several reasons. First, Louks discussion concerning politics and the Constitution are not common and when we do find political discussion it is not with the depth of knowledge Louks conveys. He is obviously very articulate and opinionated. It is also a significant letter as Louks offers detailed description of what the battlefield was like during a fight. Louks was also wounded severely at Port Gibson and discusses the agony of battle and of losing a comrade.
Letter Highlights:
"You ask me to look at the unconstitutional arrest. I wish you would have showed me one (though I do not doubt that a good many loyal men have been arrested and imprisoned by designing men who have went to the provost martial and swore lies to affect his purpose) yet we can not doubt that there has been a great deal of good done in the way of arbitrary arrests for there certainly has been a great many traitors arrested and may more be made to shut their mouths for fear they would be arrested Some object to this because it seems like taking away the liberty of speech, but should I or any other man be allowed to preach treason in the faces of loyal men."

"I know that it would not be much like hunting rebels here where every woman and child that you see you must feel that they are your enemy and most of them even thirst for your blood for a good many of the women seem more blood thirsty than the men do."

"I too well remember the day I lay upon the ground with one of my comrades lying almost at my feet in his blood uttering his last groans while to my side lay two more, one mortally wounded while the other had a frightful shot clear across his shoulders and my right arm was paralyzed by a ball through my shoulder. But even then with balls flying thick and fast around me I did not feel like having peace on rebel terms and don't yet. But I hope to do what I did then, fight them with one hand if f can not use two. We have a peace that may be called peace."
[Regiment History Source: http://www.ohiocivilwar.com/cw56.html]