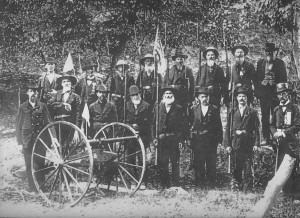 The debate over how we can apply (or combine) qualitative and quantitative research to Civil War soldiers has led some to proclaim that soldier studies has run into a "scholarly logjam." The overwhelming amount of soldier letters alone produces a problematic situation. Historians can cherry pick from a plethora of primary sources that, indeed, allows us (if we wish) to make a claim on just about any ideological basis.
So the question is, how do we measure things such as soldier's patriotism or esprit de corps? We can seek out a sample that is representative of the whole and then look for a pattern. However, there are ways to combine both qualitative and quantitative research. For example, lets take post civil war reunions. Most regiments (if not all) that gathered consistently produced pamphlets of each reunion that ranged from mere "minutes" of the ceremony to more elaborate productions that included reprints of all the speeches and papers presented, a roster of living members, obituaries of newly deceased members, letters of condolences from members of the unit, and throughout the years they would produce a regimental history.
Another key aspect of the reunion committee and the production of reunion pamphlets is they always took roll, reported how many were there and how many living members joined their regimental association and were active members. This is where we can do some statistical work and "measure" the participation level of the veterans as this is a clear indicator to esprit de corps.
Let's take one regiment and look at the level of participation throughout the first few years of their annual reunions. The 3rd Wisconsin Infantry held their first reunion in 1890, the results of first seven reunions are as follows:
….Attendance | Regrets | Known Survivors | Association membership
1890: 35…na…430…140
1891: 72…na…406…na
1892: 30…na…481…168
1893: 21…08…na…174
1894: 25…25…na…na
1895: 51…14…na…na
1896: 20…13…na…na
By "Attendance" that is obviously how many answered the roll call at the reunion; by "Regrets" this is how many responded, but they could not attend and sent a letter of regret that was read at the reunion; by "Known" it refers to the number of members who they confirmed to be living and had a physical address for each; and finally, "Association" is how many bothered to pay dues and join the regimental association.
If we look at the data it does not paint a very strong portrait of esprit de corps. Lets take the year we have the most data for, 1892, and we find only 35% of the unit's total known living members bothered to join the association and less that 7% made the effort to attend the reunion. (Note: this is not a scientific study and more data is being collected.)
If we combine the physical attendance with those that sent their regrets (could not make it to the reunion for health and other reasons) we see that the yearly average of response was 45 members. With this preliminary data we can extrapolate that for whatever reason, the 3rd Wisconsin Infantry as a whole did not display a lot of post war patriotism.
The reasons for the regiments "apparent" lack of enthusiasm is now what has to be determined. What we do know is that the 3rd Wisconsin was a fighting regiment and sustained fairly heavy causalities. Additionally, their number of known living members seems low. Regardless, this is just one regiment (with still lots of things to sort out) but this gives us one sample to look at. This way, we can present some data with our assessment of the correspondences and other documents to be used in the study.