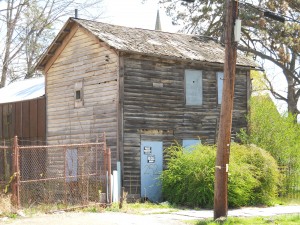 Off and on for the last 6-7 years I have entertained the thought of writing an updated history of the 124th New York Volunteer Infantry. The reason being I am a descendent of Col. Charles H. Weygant who wrote the first and only book length history of the regiment and the regiment has an excellent history that needs updating. I never could wrap my head around the idea of doing all the research being that I just last year finished my Masters and my Thesis was already picked out. Sooo, over the last few weeks I have been sending out emails and talking with relatives in an attempt to discover if Col. Weygant's Civil War diaries have survived? (If anyone happens across this blog and has information on them or the letters and diaries of ANY member of the 124th please contact me.)  Thus far nothing has turned up but it is looking like they might be around. I am probably going to have to visit Newburgh NJ soon.
Here's what I know so far. When Col. Weygant died of a heart attack in 1910 he had only one child, a daughter (his wife was deceased)  who was institutionalized and so the distribution of his assets went as follows: A local attorney was the executor of his will and gave "some papers" to the Washington Headquarters Museum and the rest to Ethel Gage (have not discovered her relation to the Colonel, yet.) The Museum is under construction and its archives are literally in a large storage shed. The papers that were given to Ethal Gage were lent by her to a unknown researcher and were never returned. (This is one of the reasons why I started SoldierStudies.org, as a rescue operation.) The Newburgh historical society has some family papers but no diaries.
The reason why some papers went to Washington Headquarters Museum is that it resided on Weygant (Weigand original spelling) property and my ancestors were very active in the American Revolution. The photo above is of the old Weigand Tavern which dates back to Colonial times and may be the oldest building in Newburgh, NJ. As you can see it is in horrible condition and for sale; if i had enough money I'd buy and restore it… why Newburgh hasn't is beyond me!?
Anyway, I'll keep updates here on if and when I commence with a new modernized History of the 124th New York Infantry! If you have questions, comments or concerns please post a comment or send me a private email via this site.
UPDATE: Got an email from a contact that is excellent news. There is going to be released soon a new modern history of the 124th: The 124th New York State Volunteers in the Civil War: A History and Roster by Charles J. Larocca. Mr. Larocca is an expert on the 124th and has been writing about them for years. Now on to the next project idea I have! Note, still looking for Col. Weygant's diaries I do not know if Mr. Larocca discovered them or not, but will find out.