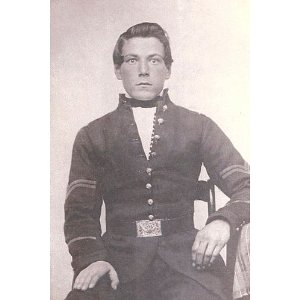 More than 2.8 million men served in the Union army from 1861-1865, yet you will not be surprised to know that only 3% or about 75,000 were "regulars," who were placed into 30 regiments (note over 2,000 regiments were created). (1)
With that in mind I highly recommend you check out "Ten years in the ranks, U. S. army" by Augustus Meyers, (1914). Meyers, somehow at the age of 13 was able to enlist in the Regular Army in 1854. He served in Company D, 2nd U.S. Infantry on the Plains and through out the Civil War. Though written 50 years after the event, his memory of the Civil War and his experiences are lucid and poignant.
You can download the book for free here, or grab a very cheap Kindle version:
Augustus Meyers
Subjects: Biographies & Memoirs, Historical
Price: $2.99
Format: Kindle Edition
File Size: 679 KB
Sold by: Amazon Digital Services
Language: English
ASIN: B004HW6FLK
1- Mark Wells Johnson, That body of brave men: the U.S. regular infantry and the Civil War in the West (Da Capo Press, 2003), X.