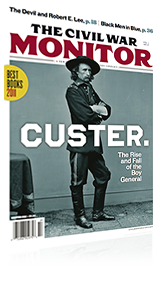 The Civil War Monitor is a new publication which recently released its second issue. Their current issue lineup includes:
Custer and the End of Innocence
In little more than a decade, George Armstrong Custer—the "Boy General of the Golden Lock"—went from Civil War darling to Little Bighorn pariah. What went wrong?
By Glenn W. LaFantasie

Black Men in Blue
A series of images highlights the story of the African-American volunteers collectively known as the Union army's "Sable Arm."
By Ronald S. Coddington

Hard Times Are Common Now
Ulysses S. Grant's determination to push the Confederates from East Tennessee during the winter of 1863-1864 resulted in a sharp—and largely forgotten—fight on the frozen ground outside the small town of Dandridge.
By Steven H. Newton

Faded Glory
As the rest of America moved on, the struggles of "old soldiers" became an uncomfortable reminder of the enduring costs of war.
By James Marten
I recently spoke with editor-in-chief Terry A. Johnston Jr. over the phone and was very impressed by his the vision for the publication. I urge you to check out their website and consider subscribing!