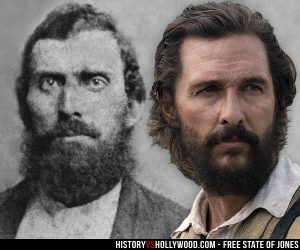 The Civil War era as a topic for Hollywood films has resulted in at best mixed results. Recent films like Lincoln and Glory were enjoyable and their presentation of history admirable. Remember, they are movies and will not ever be historically accurate enough for people.
The Free State of Jones is based mostly on a book by Victoria E. Bynum. The movie tells the true story of Newton Knight who joins the Confederate Army willingly and then through the course of events decides that it's not for him as he becomes disillusioned with the South's cause. Soldiers becoming disillusioned with their side's "cause" or with the war itself was not uncommon of course.
Some controversy has arisen over the apparent emphasis of the movie on Knight's character and his role in the events. The Washington Post film and social critic Ann Hornaday bloviates that the film's writer/director "[Gary] Ross…insisted that he didn't want…[the movie] to become another white savior movie, but that's precisely what it is."  Hornaday wanted a different presentation that apparently downplayed Knight's role, something more nuanced I'm sure. She wraps up her review writing, "There's an epic story to be told within 'Free State of Jones,' but this white-knight tale isn't it."
Most reviews I read were tempered with little political correctness and some even noted the film's fine attempt to address its take on the so-called Lost Cause myth. With recent events and controversy over the Confederate flag and other symbols, it's not hard to imagine why there is some push back. I am not going to engage in that here.
Having not read the book nor seen the movie yet, I consulted the History v. Hollywood website and, for whatever it is worth, it seemed to indicate that movie was fairly accurate.  Now I hope that if any of you have direct knowledge of Knight or the book, you will please chime in!