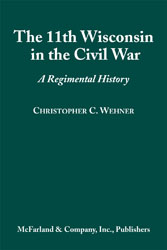 Dr. Jane Johansson is a professor of history at Rogers State University and operates The Trans-Mississippian Blog. She was kind enough to read my The 11th Wisconsin in the Civil War book and afterwards asked if I'd do an interview about the book and my experiences. It was honor to be asked and I was happy to do so.
Here's a sample:
Several months ago, Chris Wehner contacted me and asked me to review his book, The 11th Wisconsin in the Civil War: A Regimental History that was published in 2008. Although this is not a book review site, I was intrigued by the history of the unit and accepted his offer of a copy of the book from McFarland and Company. Initially serving in Missouri, the regiment then campaigned in Arkansas and fought at the battle of Bayou Cache in July 1862. The 11th Wisconsin marched and fought in the Vicksburg campaign, and then were stationed near Fort Esperanza, Texas, after the surrender of Vicksburg. The unit's last combat duty occurred at Fort Blakely, Alabama. Earlier in the year, I read Chris' book and found it to be well organized, readable, and informative. My first book was a regimental history, and I've long had a soft spot for that genre with its focus on common soldiers and their organizations. Chris (pictured at right) readily agreed to participate in the following question and answer session. Enjoy!

Johansson: The 11th Wisconsin is not a well-known regiment. Why did you decide to write a history of that particular unit?

Wehner: My grandpa would take me on his lap and read to me. It was always history books; World War II, Korea, and then sometimes the Civil War. He would take out an old diary and read to me some of the passages. He always embellished the stories, of course, as the diary was very bland. I was a little boy and didn't know or care; I loved a good story. The diary was by William Henry Oettiker, a member of the 11th Wisconsin and an ancestor on my mother's side. For my Senior Paper as a history student in college I transcribed and edited the diary, then promptly put it away and forgot about it. Years later I pulled out the manuscript and decided to see if there was anything out there about the regiment. There wasn't anything, so I did some digging and found a treasure trove of primary documents hidden under dust in archives including letters and diaries from the soldiers of the regiment. It just evolved from there and before I knew it I was collecting a lot of research and that led to the natural process of putting it into a narrative.
To read the rest…