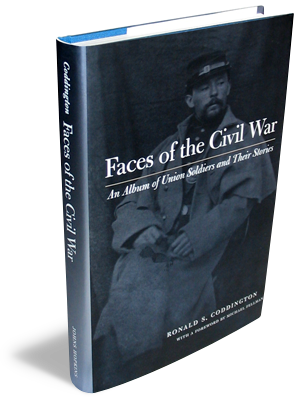 Faces of the Civil War: An Album of Union Soldiers and Their Stories
BY: Ronald S. Coddington

Hardcover: 280 pages, 77 halftones
Publisher: The Johns Hopkins University Press (August 3, 2004)
ISBN-10: 0801878764
ISBN-13: 978-0801878763
This book has obviously been out for a while now and how I came to possess it had nothing to do with the book other than it had a snippet on a soldier in the 11th Wisconsin (which some of you know I have written extensively about, here.) The book centers on a select group of images of soldiers during the war. It uses primarily pension information to give a snippet (and when I say snippet I mean a sliver, like 3-4 paragraphs) of information about the soldier during and after the war. The Civil War soldier in post-combat has become a focus of mine of late and that is another reason for my interest in the book. Faces of the Civil War offers seventy-seven images and short-stories of the soldiers represented. I love the concept and appreciate the work of author, Ronald S. Coddington, who is a journalist best known in the Civil War community for his work for the Civil War News and his monthly column, "Faces of War." He also has a wonderful blog Faces of War that continues to publish cool and interesting photos and snippets of each. Here's a description of the book from the publisher:
The soldiers portrayed were wealthy and poor, educated and unschooled, native-born and immigrant, urban and rural. All were volunteers. Their personal stories reveal a tremendous diversity in their experience of war: many served with distinction, some were captured, some never saw combat while others saw little else. The lives of those who survived the war were even more disparate. While some made successful transitions back to civilian life, others suffered permanent physical and mental disabilities, which too often wrecked their families and careers.
Once again I commend the effort but was left with an empty tank, glass not even half-full but more like the backwash of a good beer feeling! There was never enough to get any kind of "personal stories" feeling with regard to the book's subjects! There simply was not enough history of each soldier to grab me or hook me in any way. I understand the focus was to cover a large array of soldier's images, but the snippet presentation left me wanting more. Would have preferred 35 soldiers and several pages of history for each. But perhaps that's just me! For the reader interested in Civil War soldier studies I would recommend it as I got my copy at Barnes & Noble (in the store) at the discount table for $5 or something!