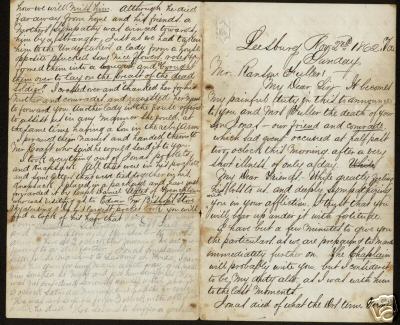 In August of 1862 Private Jonas Fuller of Bradford County enlisted  in Company A of the 141st Pennsylvania Infantry. His regiment spent time at Camp Prescott Smith in Arlington, VA., and on the march protecting Washington, D.C. The regiment was organized in August, 1862 and did not see significant action until December, 1862, at the Battle of Fredericksburg, after Jonas had passed away.
Jonas wrote several letters home that have survived before his death, the first on August 19th, 1862 at Camp Curtain. By September they were camped new the Capital of the United States. Jonas's letters were typical with regard to content. He wrote home about the conditions of the camp, his comrades, and of their daily activities. He noted the impressive plantation homes he encountered and his thoughts on blacks; whom he didn't appear to care much about. He was there to defend the flag and protect the Union.
However, the significance of this collection is the final letter that was sent home on his behalf. Jonas died suddenly on Sunday, November 2nd, 1862 of what the surgeons called "Congestive Fever." This letter of condolence is one of the more detailed that I have seen. Jonas was clearly beloved by his comrades. Sgt. Joseph W. Hurst opened the letter informing Jonas's parents of their son's death. Then the letter is continued by Joseph W. Hurst, a close friend of Jonas. Hurst goes into great detail describing the sudden illness and untimely death. He goes out of his way to comfort Jonas's mother that her son did not suffer and did not die alone, stating, "He died in my arms and as I closed his eyes, I felt that I had lost a friend and brother."
The letters focus was completely on Jonas's mother and how she would hopefully take the news. Hurst pleaded that she not take the news too hard for "Providence took him from us before he probably would have met a harder fate upon the field." And indeed the regiment saw hard action at Fredericksburg just a few weeks later.
Hurst assured her that a proper funeral was arranged, that it was well attended, and then he described an emotional scene involving local residents, mothers of Confederate soldiers.
Just as we had taken him to the Undertaker's a lady from a house opposite plucked some nice flowers roses & formed them into a bouquet and "brought them over to lay on the breast of the dead Soldier." I crossed over and "thanked her for his Mother and comrades and requested her name to forward your. Another lady in the house offered to assist us in any manner she could, at the same time having a son in the rebel Army.
The themes of the letter are interesting, yet no surprising. Studies have noted that providence was hugely important to soldiers and loved ones; the central role of motherhood and domesticity, and the affirmation that a soldier was courageous and loyal, even when on death's door.