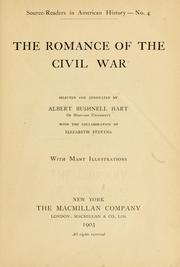 This was an interesting find today during some Google Book browsing. The Romance of the Civil War was published in 1903 and edited by Albert Bushnell Hart and Elizabeth Stevens. However, the title is a bit misleading. When I first found it I expected the "romantic" nature of late 19th century writing to bring forth an expected confined and yet allusive narrative that would live up to the title. Well, I couldn't have been more wrong.
The book is not widely known apparently as it is not cited by any historical texts that I could find (per google books) and not any websites discuss it as a primary source. "The Romance of the Civil War" is a textbook and a fairly progressive one at that. Not coincidentally it was produced during the Progressive Era. It opens with a message to Teachers,
A close personal relation may very possibly be found to exist between the authors and the readers, for many of the pieces were written by slave-holders, slaves, poor whites, abolitionists, journalists, novelists, poets, teachers, generals, privates, troopers, midshipmen, rear-admirals, Southern women, Northern nurses, surgeons, and chaplains,— some of whom are alive now and perhaps known to the children who use the book. Personality stands out clearly also, because many of the authors are men and women whose names and faces are familiar in every home in America, names such as Grant, Lee, Sherman, Farragut, Harriet Beecher Stowe, and Louisa May Alcott. Again, many of the selections are direct character sketches, and reveal an intimate knowledge of such men as John Brown, John Morgan, General Lee, and John Ericsson; while others, indirectly, by suggestion, portray such well-known people as "Jeb" Stuart and Grant.
I think the text is worth consideration for teachers today as its offering of personal stories presents several interesting things. For example, context, look at the type of documents presented and consider how and why they are being used? This would lead to some interesting discussion in class. The text also offers a wide range of "social" historical presentations. How the text tries to handle slavery in a multifaceted way, I found interesting. Women and soldiers, leaders, and warfare are all dealt with as well.
Anyway, just thought I'd pass this on…