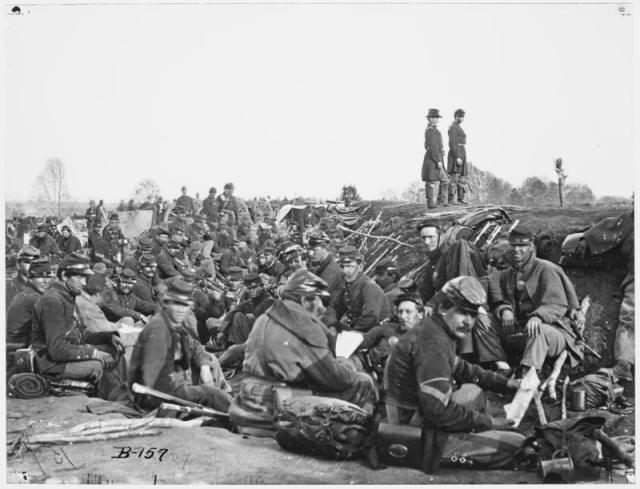 Major General Joseph Hooker actually had a pretty good strategic plan in place before the Battle of Chancellorsville. He intended to secretly march part of his army northwest, cross the Rappahannock and attack Lee's rear. Meanwhile, with Major General John Sedgwick and his 30,000 men at Fredericksburg, Hooker intended to hit the Rebels with a large double envelopment. He also initiated a cavalry raid (Major General George Stoneman) to Lee's supply lines to prevent reinforcements.
Though a solid strategic plan, the tactical execution aspects of the campaign would be indecisive. In the end it would be General Robert E. Lee sending Lieutenant General James Longstreet's First Corps around in a brilliant flanking maneuver that would roll up Hooker's line and nearly result in a rout.
The following are some excerpts of letters found in the Soldier Studies database.
We have had the hardest fought battle of the War and gained nothing but suffered defeat with a terrible loss of life and property. The enemy's loss must have been greater than ours as they made the attack. I am as well as could be expected considering the physical, mental and nervous strain that I have passed through. I have seen all that there is of war; I have been well initiated having been under fire for three consecutive days. It is very lonesome for me, there are so many of the men missing, some never to return.

This was our first under fire and the men showed no fear. Of course we had to all make a bow when they passed over our heads but if the battery had stood its ground we certainly would have captured it. We guarded this road until the wagon train had passed, then joined the Brigade. The 28th Penna. Regt. had a skirmish with the cavalry and lost one man (killed). Where we had the skirmish was on the Wilderness road. We marched until five o'clock, then went into Camp near Chancellorsville, about seven miles from Fredericksburg, Va. Chancellorsville proved to be the battleground. Our fifth day, May 1st, we did not move until 12 o'clock M., when we made a reconnaissance to the east of the Chancellorsville House about two miles and was here under the fire of a battery. It being so far away we could not return it, we were ordered back to where we had camped the night before. At four o'clock P. M. we were attacked by the Rebel infantry. Lieutenant A. T. Mason with Company A, Lieutenant Marcus Beadle with Company I, and Captain Orin S. Hall in command, assisted by Adjutant Geo. H. Wallace, were sent out in our front to establish a picket line. The right of this line was to rest on the Spottsylvania Court House road and extend through a piece of woods and cleared field to a tobacco house on the east, which was the left of the line. Lieutenant Beadle had passed along to the left of the line and had posted his men. Capt. O. S. Hall was at the extreme right of the line and had inspected it, while Lieutenant Mason and his company were in reserve to support either part of the line. The line had only been established when the enemy's cavalry made an attack on the right of the line and drove in four picket posts. Captain Hall had extra men with him and commenced reforming the line and placing his men closer together to strengthen it when he saw the Rebel infantry advancing in line of battle. Lieutenant Mason with the reserve hearing the firing went to Captain Hall's assistance and was placed in the center by Adjutant Wallace who was mounted. The pickets held their ground as long as they could but were soon driven in. The Regiment, hearing firing on the picket line, received orders to advance and pushed forward over a fence where we were exposed to the sight of the enemy, when they opened fire on us. We could not see the enemy in the woods and did not fire on them until we had taken position on the top of a cleared hill in sight of the enemy, when they came to the edge of the wood.

As soon as our men saw them, Colonel Norton stepped upon a stump swinging his sword, gave the order to cheer and to commence firing, and fell to the ground. He had received a mortal wound by a rifle ball. The Rebels answered our cheer by their shrill yell. There was sharp firing on both sides and the pickets between. The Adjutant's horse came back riderless and we supposed he was killed, but he soon came in laughing and saying he had to dismount to save himself but thought he had lost his horse. Captain Hall and Lieut. Beadle with their Company (I) filed to the right and came back under cover of the woods while Lieutenant Mason with Company A fell back through the open field and suffered severely, having to come up a hill to get to the Regiment. Colonel Norton was carried to the rear never to return again to the Regiment by whom he was beloved. The enemy soon got their artillery into position and commenced shelling us when we fell back into the woods where out artillery was brought up and replied to the enemy. This brought on an awful artillery duel and for nearly an hour it was kept up. Trees and limbs fell crashing to the ground; shell went shrieking over our heads or bursting near us. The roar of cannon and roll of musketry was terrific and it was no wonder that some of the boys that were behind the largest trees in the woods (and there were some enormous ones) began to move back to look for larger, but were observed by Major Rogers who started for them with drawn sword (he is quite a small man but carried a very large cavalry sabre), calling out to them saying, "The first man who leaves his post, I'll run him through." This declaration astonished the men as they had seen but little of Major Rogers while Colonel Norton was with us as his duties were light. The men called him the fifth wheel, in comparison to the extra wheel carried on the limber of a caisson of artillery. In case one on the carriage of a cannon should break down, this one would be used. So the boys thought with a Major. If the Colonel or Lieutenant Colonel were disabled, the Major would come into active use and so it proved and we could not have a better officer as he saved the Regiment twice before the battle was over. Dark came on and the firing ceased. Our loss in the Company that day was two wounded. The loss in the Regiment killed and wounded was twenty-two. All night we lay on the ground and the men kept their guns in their hands expecting to be surprised at any moment. Saturday morning, May 2nd, was clear and beautiful and at early dawn troops were moving here and there taking up new positions, building breastworks, and preparing to hold the ground they were occupying. Our Regiment was held in reserve all day until four o'clock when we were ordered to make a feint toward Fredericksburg so that the right could advance their line to a better position. The day before when we made a feint to the east of the Chancellorsville House, it was to enable Gen'l Hooker to take possession of the United States ford across the Rappahannock River as that was our only way of retreat. At four o'clock we formed in line of battle and advanced into the woods I should think for about an hour until we came to a clearing. We could hear sharp musketry on our left and see the enemy advancing in column and firing, but could not see any in our front, so we did not open fire. We remained here about half an hour when the right wing of our Regiment moved away, breaking at the Colors, leaving the Colors with us. In a short time Major Rogers rode up and asked Captain Crary where the rest of the Regiment was, and was told that they had moved to the right and rear but as he had no orders he remained. The Major rode in the direction pointed out, but soon returned not finding anything of Colonel McDougall and the five right companies. He then ordered us to move to the rear by the right flank, he leading us. When we were going back there was sharp firing on both the right and left of us. When we returned within our lines we found that the 11th Corps had broken and the enemy were closing in on us and there was only room for Major Rogers to come in between the two columns that were closing up the space between. Had he been five minutes later or had he gone either to the right or left, he and the five companies with him would have been captured by the enemy. Colonel McDougall did not know that we were left behind until he had got within our lines. When he received the order to fall back he gave the order and ordered it to be passed down the line from one company to another and was passed until it came to our Company. It stopped at Company C. When we got back it was dark, and when we came out of the wood where our line was formed we beheld a sight that I never will forget. Just before dark the enemy in front of the Eleventh Corps massed their infantry and made a charge on them, breaking their lines and driving them back, capturing on of their batteries which they turned on them, demoralizing them still more. This battery was replied to by one at Chancellorsville House about a half mile distant which drew the enemy's fire on them, and shell were flying from one to the other and exploding, which made a grand fireworks. The enemy did not hold this battery long for our troops made a charge on them and recaptured it. At this time we were formed in the front and placed behind some breastworks at the left of the swamp about a quarter of a mile at the left of the plank road, where we remained about two hours, when we were moved to the right until the right of the Regiment rested on the plank road. We were in the front line and were ordered to build what breastworks we could. We worked all night cutting down trees and gathering stumps and piling them in front of us. Toward morning we rested awhile. We could build no fires to cook coffee and had eaten nothing since the morning before. Just before light no sound could be heard but the whip-poor-wills and there seemed to be thousands of them in the woods in front of us. In the morning I noticed that I had been on this very ground twice before. Friday noon while at dinner Colonel Norton was with us and remarked that perhaps that was the last time that the officers of that mess would dine together. Then again in the afternoon when we returned from our feint when General Hooker had taken possession of the United States ford, our Regiment was called to an attention and his profane order read to us and was also published to the whole army which was this: "I have got the enemy where God Almighty cannot save them." Do you wonder I could not forget the place. Could a General expect to succeed and defy the living God. I was shocked when it was read and thought perhaps God will save them. General Hooker knew that the enemy must make the attack, which they did on the evening of May 2nd, and broke the Eleventh Corps, that nearly caused a disaster. Sabbath morning when the sun arose it looked like a ball of fire, at which time the enemy made his first attack on May 3rd, 1863. He did not send out any skirmish line but massed his infantry on the plank road and made desperate effort to break our line. We had our pickets out and when they were driven in we were ready to receive them. They appeared in one solid mass of living grey. The whole woods in front of us seemed to be full of them. For five long hours we held our ground and with but a single line of infantry backed by forty pieces of artillery which stood on the hill in front of Chancellorsville House, that kept up a continual firing over our head. The enemy charged on us in solid column again and again, their battle cry sounding above the roll of musketry, the roar of cannon and bursting and crashing of shell. The enemy would come so far, when their ranks would become so thinned that they would fall back a little to fill them up again. When our men would see them giving way cheer after cheer would then be heard. It would be only for a moment as the empty places in the enemy's ranks would be filled and on they would come again. On this road was the point where the enemy were determined to break our line which was our centre; at this point was where all the heavy fighting was done and why did not General Hooker send us support and save the disaster that must come if we do not get it. Our ammunition was becoming exhausted and our men worn out and weak from hunger, having had nothing to eat in twenty-four hours, not even a cup of coffee, and at nine o'clock one-half of our men were among the killed wounded and missing. At this time there was a lull as the enemy had fallen back.

Source: http://www.soldierstudies.org/index.php?action=view_letter&Letter=135
Next day we marched on again, and noon found
us at Chancellorsville, a big brick house in a field surrounded
by a wilderness of woods. Here we halted and spent the
night, and here the great battle of the war was fought.
Friday morning our brigade made a reconnoissance towards
the Rappahannock. On the road we found a newly
deserted camp with tents all standing, and in it some of
the French knapsacks and muskets we lost at Games' Mill.
We returned in the afternoon and there was some skirmishing
with the enemy. Saturday was spent in building breastworks,
and in the afternoon the rebels arrived. They attacked
our lines furiously in the center, but were repulsed.
At first the Eleventh Corps (Sigel's Dutchmen) gave way,
and Sickles' division (the one Alf is in) was sent in.
They drove the rebs back and held them. At night we lay
on our arms behind our works. The moon was full and it
was almost as light as day. Six or seven times the attack
was made in the same place and every time repulsed. It
was an anxious night, for the morrow all felt sure would be
a bloody Sunday, and so it was. We were up at light and
moved off to the right of the center, and immediately went
to work building breastworks. Just as the sun came up the
enemy came on. Their whole army was massed on half a
mile of our center, and Jackson told his men "they must
break our line if it killed every man they had," but we were
prepared for them. Our first line in front of the works
was overpowered and driven in, and they rushed on. Artillery
and infantry met them. Protected by their breastworks,
our men poured it into them. Grape and canister
swept through their columns, mowing them down. Still,
on they came, like a vast herd of buffaloes, struggling over
the trees and brush, dashing, brave, impetuous, but doomed
to destruction. Thousands of them charged right up to our
works, but, the line shattered, comrades killed, they could
do nothing but throw down their arms, retreat being impossible.
For six hours they persevered and then withdrew.
You must imagine the scene — I cannot describe it. The roar
was unearthly ; there is no better word for it. I shudder at
the slaughter. Ours was fearful enough, but a drop in
the bucket to theirs. Source: http://www.soldierstudies.org/index.php?action=view_letter&Letter=760