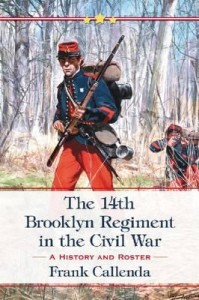 The 14th Brooklyn Regiment in the Civil War
A History and Roster
BY: Frank Callenda
Regimental histories written today are a labor of love. A thankless task and one that does not pay well — you will never recoup the worth of time and money spent in monetary terms. But once again, that is not why we write them. With that said, Callenda clearly wrote about a group of men he felt passionate about: The 14th Brooklyn Regiment in the Civil War.
The regiment took part in some of the hardest fights and campaigns in the eastern theater. The regiment's origins go back to 1847 when it was established as a New York State Militia. They were known as the "Brooklyn Chasseurs" and their fighting record is impressive and includes: Bull Run (1st and 2nd), Antietam Creek, Fredericksburg, Chancellorsville, Gettysburg, Wilderness, and Spottsylvania.
From the very beginning they established themselves as a reliable and hardy unit. During the First Bull Run battle, Stonewall Jackson was rumored to have noticed their prowess and dubbed them the "Red Legged Devils" (they wore a variation of the French Chasseur uniform including "red" pants.) They sustained 142 casualties in their first fight. During their entire three years of service the Fourteenth Regiment sustained 717 casualties for a whopping 41% rate.
Callenda's history does the regiment good service and presents a lively narrative that is engaging and informative. The only missing aspect would be something with regard to the "Civil War memory" aspect as the book ends rather abruptly with the Spottsylvania campaign and a short chapter on their return home. What happened to the men later in life as they reunited and reflected back on their service is a must today for regimental studies and is sadly missing here. But overall, a solid presentation.
Frank Callenda is a retired teacher from Brooklyn and helped the Public Library System establish a Civil War website.
From the Publisher:
Most Civil War regiments came from rural areas of the country but the 14th Brooklyn was taken from the city of Brooklyn, New York. Having been a militia unit until the outbreak of the war, they were quickly mobilized and they served in most of the major battles in the East. Their bravery in battle was noted by both friends and enemies and certainly by the military leadership on both sides.

The book tells of the military and the personal side of fighting; the soldiers' letters home show their homesickness as well as their willingness to endure whatever was necessary to preserve what they believed was right. It shows the relationship between the men of the regiment and the people of Brooklyn, who rather than the Federal government, provided some of their supplies. This was particularly true of their distinctive uniforms modeled after the French chasseur uniforms with bright red pants. The 14th kept these uniforms even after the Federal government standardized the Union uniform to the blue with which we are all familiar.
(source: http://www.14thbrooklyn.info/ShortRegtHistory.htm)