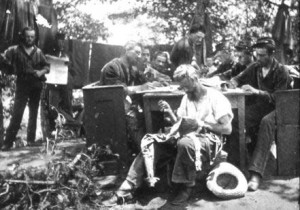 I've been reviewing with my APUSH students for their upcoming AP Exam and thought about soldier studies and a few concepts that we cover over and over again in class, one being: Levels of Questions. Obviously as good stewards of history we know that how we frame our questions is very important and that we must use critical control when we do. With regard to history we focus on the concepts of "Cause and effect" and "Change over time." Within the question asking process, we look at three levels:.
Level 1: the answer is explicit in the text: who, what, where, when, ect..
Level 2: the answer is implicit, usually a "why" type of question, however, a better approach is: "it's the reasons for the reasons."
Level 3: the answer is "outside of the text" and is open ended.
In order to stay within quantifying analysis we would have to contain ourselves to Level One questions. What does the soldier explicitly say in the letter. Once we move to assessing or interpreting vague statements we go "outside of the text."
When we get to Level Two questions, the historian is now venturing into the realm of "finding" those documents that support the whys and reasons for a soldier's statement.
Level Three questions are great to generate historical/critical thinking in the classroom, however, if we approach soldier studies from such a position we take on highly provocative issues but find ourselves having to seek out those few primary documents that may not even represent a qualitative assessment at all.
So when we ask: Why did Civil War soldier's fight? We start at the Level One question and look into what they actually wrote/said. When we ask, Why did they feel or see the war in such a way? Then we start to get into Level Two questions with regard to our historical investigation. If we stay away from "outside of the text" positions and analysis we can better support our thesis. However, by doing so do our we limit ourselves in any way? Do we lose the provocative nature of historical assessment that seems to produce new ways of thinking about the topic?