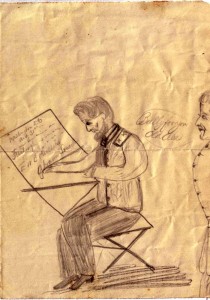 The William Beynon Phillips Collection is one of the better ones in the Soldier Studies database for its historical value. Phillips joined the Union cause in August, 1862, near Scranton, Pennsylvania to fill the ranks of Schooley's Battery; which shortly later became attached to the 2nd Pennsylvania Heavy Artillery as Company M. [to the right is a drawing by Phillips found in the collection of writings.]
Phillips was an educated and a sensitive young man who wrote home to family and friends, faithfully throughout the war, until his capture at the Crater in 1864.
On his sendoff, as he left behind family and friends, in his first letter home after the event Phillips wrote sincerely, "I shall not attempt to describe it for it is beyond my power. You may say that I put a good face on it, but it was far from being so in my heart." [letter]
His unit was first assigned to Fort Delaware, where they received their official uniform. Phillips was so much impressed with the digs that he wrote to a friend, "The soldiers here are dressed to kill – cleanliness and neatness being the order of the day." [letter]
Early on soldiering was not very hard for most Union men. They often were fed more, provided more comforts, and commented fairly regularly how soldiering was "good times" or at the least, tolerable. The typical Federal soldier added weight during the early "training" months of soldiering. Writing home Phillips noted as such, "Plenty to eat, but rather rough. Enough (water) to drink. Abundance of exercise & enough sleep. No care & clean conscience. Who would not be healthy?" The daily routine of drill and training indeed was new, but the men did not want for much. [letter]
Phillips took part in some pretty hard soldiering and fighting, enough to make him and many soldiers yearn for home. Two years into his experience he wrote home on the eve of a great march, "We are going to see some tough times, but I guess I'll stand it." [letter]
Writing of the battle, and the experiences of war, Phillips concluded in another letter home, "But on that awful 17th [of] June , [the battlefield] was the hottest place yet. I was so excited, that I knew nothing of the danger. My eyes saw all, in red and flame, but I could not digest it somehow. [The] only thing I knew I was rushing [forward], half carried on by some other power than myself, until I tumbled head and heels in the rebel works, to see the "Johnnies" put through the woods beyond. But I didn't stay there long, for they rallied and drove us out." [letter]
The William Beynon Phillips Collection will hopefully continue to grow over the coming months as his g-g-grandson continues to donate them to the archive.
***Soldier Studies is always in need of donations of soldier letters. Please if you have letters that are transcribed, consider donating them to the archive so that historians, students, educators and Civil War buffs can enjoy them and use them for research! It is easy to copy and paste the transcription and add the scanned front page of the letter; you retain all rights!
William Beynon Phillips Bio:
"It is a sad story, but my great-great grandfather, Adj. William Beynon Phillips of the 2nd. PA Provisional Heavy Artillery ended up in San Francisco, a hopeless alcoholic. He died at the age of 35 in 1876 in the San Francisco City Jail Hospital of a brain hemmorhage and was buried in a pauper's grave. During the war he was one of the officers who led the first regiment into the Crater after the mine explosion. He was captured and spent 8 months as a Union prisoner at Camp Asylum, Columbia, S.C.  I often wonder if the horrific experience at the Crater and other battles of the Overland Campaign contributed to his alcoholism. He was but one of countless veterans of the War who became hopeless alcoholics, traveled west and died at an early age from the disease."