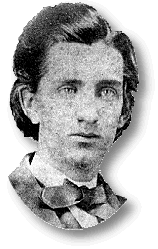 Sam Davis was captured by Federal cavalry 15 miles outside Pulaski, Tennessee. He was captured wearing a "Federal soldier's coat" and was a suspected spy and would therefore, per military law, be hanged. Brig. Gen. Grenville M. Dodge was in charge and when Davis was brought to him, he reportedly implored the young man to tell him who he was a spy for (Confederate outlaw "Coleman" led the network of spies) and where he might be found?
Sam Davis refused to give up the information and was sentenced to death by hanging. Dodge had Davis sent back to his cell and ordered his provost marshal, Capt. W. F. Armstrong, to place someone near Davis to see if the information cannot be gained that way.
Armstrong sent his clerk Pvt. C. B. Van Pelt of the 81st Ohio Infantry to spend time with Davis and try to get the information from him; supposed to help him avoid execution as Dodge respected the lad's hesitation to give up his comrade.
Van Pelt recorded years later that he often mingled with the Confederate prisoners and found Davis to be an exceptional patriot of the Southern cause. He remembered the "even tenor of gentleness," of Davis noting that "had I been placed in his position, he would doubtless have proffered me the same sympathy I endeavored to extend to him." However, despite hours of conversation Van Pelt failed to get anything out of Davis
The next day Dodge brought Davis again to his attention and demanded he give up the information or he will be executed. Davis refused and was sent away again. Dodge declared he would be executed and reportedly Van Pelt was given the task to inform Sam Davis of the sentence. Which he did.
Davis noted the following of the event:
He stood before me, an uncrowned hero, his eyes flashing, and said: "I will die a thousand deaths rather than betray my cause." We were both moved to tears and remained silent for a time.
Though others tried to persuade Davis to talk, he refused. Before his execution he wrote the following letter home:
Pulaski, Giles County, Tenn., Nov. 26, 1863

Dear Mother: Oh, how painful it is to write you! I have got to die to-morrow morning–to be hanged by the Federals. Mother, do not grieve for me. I must bid you good-by forevermore. Mother, I do not fear to die. Give my love to all.

Your son, Samuel Davis

Mother, tell the children all to be good. I wish I could see you all once more, but I never will any more.

Mother and Father, do not forget me. Think of me when I am dead, but do not grieve for me. It will not do any good. Father, you can send after my remains if you want to do so. They will be at Pulaski, Tenn. I will leave some things, too, with the hotel keeper for you. Pulaski is in Giles county, Tenn., south of Columbia.

S.D.
Davis's sacrifice became the stuff of legend and in 1909,"an official monument to the memory of Sam Davis was dedicated on the grounds of the State Capitol in Nashville. A tablet placed there notes that the heroic bronze figure was funded by private contributions from every state in the American union."