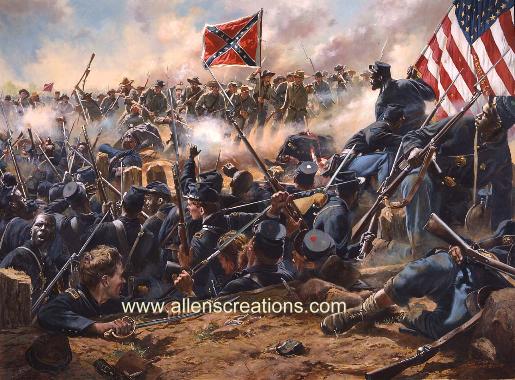 I found the following in a Wisconsin Regiments Reunion publication and was fascinated by this particular Captains reflection of his black soldiers. Captain Ira B. Reynolds quotes from his diary as he reflects years later about the incidents described. I do not believe its been published since? Ira B. Reynolds started out as a private, Company E, 3d Wisconsin Vols., and eventually ended up with the Forty Third U.S. Colored Regiment as a Captain. The Forty-Third also served at The Crater at Petersburg. Unfortunately the Diary Captain Reynolds refers to has not been located as of yet. Here is his account as read during one of his former regiments annual meetings:
WHITE AND COLORED TROOPS IN THE UNITED STATES ARMY — A COMPARISON.
BY CAPTAIN IRA B. REYNOLDS.

In writing this article on the comparative merits of white and colored troops, I do it after three years' service as a private in Company E, Third Regiment, Wisconsin A7olunteer Infantry, and nearly two years' service as captain of Company I, Forty-third United States Volunteer Infantry, colored, in both of which I served for the periods of time mentioned, during the Civil War.

In Company E I received my first lessons as a soldier and I now feel an indescribable thrill passing over 'me as I look backwards thirty-seven years, to that momentous period of my life when I took my place at the head of the rear rank, my brother standing before me in the front rank, of Captain Gustavus Hammer's company, at Mayville, Dodge county, Wisconsin, April 21, 1861—my twentieth birthday.

Fort Sumter had been fired upon and this date was six days after President Lincoln had called for 75,000 troops to put down the Rebellion. I cannot say that I then knew much of a soldier's life or could even imagine what I was to see and endure the next three years; neither can I here describe my service in detail, but it was a part of the whole experience of the old Third Wisconsin, although not all for I was transferred from it on account of a wound received at Chancellorsville, Va., May 3, 1863, and I am proud to think now that I graduated from that grand old regiment. The object of this article is to give my experience as a captain commanding a company of colored infantry, comparing these troops with my white comrades and also expressing my opinion regarding the merits and demerits of both. Suffice it to say of the white soldiers that my experience and service in the Third Wisconsin Infantry, under the thorough drill and discipline of its able officers, made it possible for me to become. a captain in a colored regiment.

I will give, first, my promotion from a private to a captaincy; secondly, my assignment to Company I, Forty-third U. S. Colored Infantry. Then I will tell where I found the regiment; describe the men composing it ; the difficulties experienced in organizing it; the wonderful imitative power of the men; their eagerness to learn, etc., etc. Then will follow the move to the front with experiences in active warfare under General Grant from May 4, 1864, to April 9, 1865. When the government found it necessary to use the negroes as soldiers it was also provided that their officers should be white men an4 well qualified to command. As I had been transferred from the Third Wisconsin to Company E, Nineteenth Veteran Reserve Corps, and was stationed in Washington, D. C, I had to appear before an examining board then sitting in that city.

March 1, 1864, I made application to Major Foster, assistant adjutant general and chief of Bureau of Colored Service, for permission to appear before Major General Casey's Board of Examiners for officers of colored troops. My application was endorsed by Colonel AVoodward, Colonel Gile, four captains and
other officers of the Nineteenth Veteran Reserve Corps.

March 16 I received permission to appear on the following day, when I was ordered to report again on the thirtieth, which I did do, was then examined and April 13 the board recommended me as a captain of the first class. And three years from the day the first gun was fired on Sumter I received my commission as captain of Company E, Forty-third United States Colored Infantry, and was ordered to report for duty at Camp William Penn, Philadelphia, where I was mustered in April 21, 1864.

I found Company I to be composed of about 100 colored men, of all ages, sizes, and can truly say, of all shades of color, from jet black to a pale white and nearly all of them directly from some slave plantation in the south. They were physically a good looking lot of men and when I formed them in line and requested all who could read and write to step forward, not enough were found to make the necessary non-commissioned officers. To show more plainly the character and condition of the men whom I had to drill and organize, I will give a brief history of one of them. The next day a man came to me and said: " Captain, John Anderson, one of your men, can read and write, but he says he was afraid to tell you. "

After sending for John Anderson he told me this story: He said that: "He had always been a slave on a plantation in Kentucky, that his master had given orders to cut off the first finger of every slave that learned to write. His master 's wife had taught him to write unbeknown to her husband, and that he had been a Baptist preacher for .twelve years, and he was afraid to tell me until I assured him that I would do him no harm." I found some of the men had been freemen and had always lived at the north. They could read and write but they were the worst men I had to manage. I organized the company the best I could and commenced to teach them the duties of a soldier, and I have this to say, that I never saw a class of men that would imitate your every movement and make them their own faster and more perfectly than they could. I soon found that their imitation was wonderful, and I had to be very careful that everything I wanted them to do was done just right, and I soon had a splendid company for dress parade. They soon learned the manual of arms to perfection.

They were great musicians, making it easy to form a drum corps or a band. They were in fact, machines. Now would this all hold good in actual service under fire? As will be Seen. General Grant moved against Lee, May 4, 1864. One division of colored troops under General Burnside guarded the immense wagon train during that memorable campaign to the satisfaction of both generals. Seven companies of the 43d regiment (colored), led by Col. H. S. Hall, charged over the rebel works at the battle of the Mine, July 30, 1864, capturing a rebel flag and two hundred prisoners, losing in the fight: 1 officer and 19 men killed; 6 officers and 80 men wounded, and 100 prisoners.

I joined the regiment with my company, August 3, 1864, three days after the battle of the Mine, and will now relate my personal experience with colored troops in the field. First I will give my opinion or impressions as I recorded them at the time, and how those opinions were modified by actual service. I quote from a letter I wrote home, August 9, 1864, six days after my company came into actual contact with the enemy. "We are continually skirmishing but very little hard fighting. Shells whistling over our heads constantly. I will sketch our position so you can see how we are situated:"

" Pickets have to be posted after dark and retired before daylight. You cannot realize how we are feeling. It's impossible for one to feel as we do unless he is where every moment he expects to be hit, either by a piece of a shell or a minnie ball?" August 15, '64, I recorded in my diary: " I have but little
confidence in colored soldiers to stand and receive a charge. They will make a charge and do it well, but if you halt, then they will not (so far as I have seen) stand and receive the rebels. The Government is too hasty in putting them in the field. They should be organized and drilled at least one year before being put into a fight. They are ignorant, selfish, and without shame, care little for each other, nor have they regard for themselves. They are suspicious of everybody, and think they are to be trodden under foot. Slavery is the cause of all this. This generation of slaves or blacks cannot be made equal in any respect with the white race (of course some of the white race are just as low). The whites are not forced into degradation, therefore it is a disgraceful sin for them, while it cannot be regarded as such of the black race on whom it was forced. "To take the black race from the dark, low position which they have been forced to occupy and make them industrious, self supporting, will take something more than freedom, and much more than is being done for them. Two generations will have to pass away before the degraded principles and actions that
characterize their every-day life will pass away. They have got to be taught what shame is. They must have imbedded in their very being a principle of self-pride that will cause them to strive to excel in deeds of valor and love. When the yoke of slavery is taken off, then the way will be opened for the work; to teach their children is the only way. In no other way can the black race be made equal with the white either in education, in valor or its equal in society."

This was what I thought at that time, but I found by actual experience from that time until the close of the war that the colored troops filled a very important position in the army of the Union, and did splendid service.

Our regiment took part with other troops, black and white, in holding Lee's rebel army in front of Richmond and Petersburg. The forts and breastworks extended from the north of Richmond to the south of Petersburg, a distance of nearly t h i r ty miles, and I know that the 43rd Colored Regiment marched along and occupied at different times nearly every mile of those works.

It held the works while Warren went and captured the Weldon railroad. It took the place of the Ninth corps when it went to support Warren. It went to the left and took part in the battle of Hatcher's Run, losing quite a number of men in killed and wounded. It relieved a white regiment at Bermuda Hundred and was under fire for days. It crossed the James river and held the works six miles from Richmond and then marched into Richmond April 3, — the morning it was captured. Other colored divisions marched with General Sheridan from Five Forks to Appomattox. To give personal experience and detailed account of all the important work done by the colored troops or individual incident of what men did in our command would make this paper too long. I will quote two more extracts from my diary giving actual
experience in the field and in camp. I wrote October 27, 1864:

" We moved from our camp at 6 a. m. this morning.
" 9 a. m.— We are now in line of battle in the woods, heavy
firing on our left, our turn will soon come to advance. One man
wounded in the hand on the skirmish line.
"9:45 a. m. — F i r i n g increases on our left and some in front
of our line. Am alone in command of my company. I have
fifty privates and corporals and five file closers. There ought to
be two commissioned officers with every company. My first
lieutenant is assistant adjutant-general, my second lieutenant
is under arrest and in the rear. ' We Jhave but one field officer
and an aggregate, I think, of 550 men and 18 line officers.
While waiting orders I am writing. How the sound of muskets
re-echoes through the woods!
" 10 a. m. — AA'e have advanced a half a mile and are close to
the rebel line, two shells burst within two rods of where I am
writing. Just now minnie balls are flying fast around us.
Heavy firing to the left. Lieutenant Rounstree, Company A,
just killed by a minnie ball. One of Company B is killed and
three or four wounded.
" 12 o'clock. — Still in line of battle, no particular change.
" 2 p. m. — Have put up a line of breast works,
" 4 p. m.— Orders just come to change front to the rear on
tenth company which was done in good order. The pickets were
driven in while doing it. Lieutenant Sawyer, Company G, was
wounded and a number killed and wounded.
" 6 p. m. — AVe are putting up new breastworks, our right
joins the second brigade. October 28. still in line, have good
breastworks. It rained most all night, I sleep but very little.
No news from the left. Some rumors that the second corps hastaken
the south side road.
"12 p. m. — Orders come to be ready to move at moment's
notice.
" 1 p. m.— Moved from our position to the right and returned
to our old camping ground. Our loss is 24 men killed and
wounded and 1 officer killed and 1 wounded, what the whole
move was made for and what it accomplished I am unable to
tell During all this time and wnth all the moves and positions
taken by us we were not allowed to return the fire of the enemy. "
The whole army was moving to the left and General Grant says
in his Memoirs, that "On the 24th I ordered General Meade to
attempt to get possession of the south side railroad and for
that purpose to advance on the 27th. The attempt proved a
failure." This is what is known as the battle of Hatcher's Run.
No soldiers could have acted better than the colored troops did
during all these movements.
Again: " Dec. 29, '64. T have worked all day preparing my
pay rolls for November and December. It is quite a job for I
have to put on the rolls the money value of all clothing drawn
by the men, above what they are allowed. Some have overdrawn
to the amount of sixty dollars, most of them as high as
thirty dollars. They take no care of their clothes and I have tried
very hard but I failed to teach them economy. Some are very neat
and tidy and take pains to keep so. Some will send their money
home. But the others have been brought up to cat. drink and
be merry without regard for the future. They are happy when
their haversacks and stomachs are full and will spend most of
their wages at the sutler's, buying sweet-meats if I would let
them. They are most always cheerful and go to work with a will
when orders come to march, no matter whether it is noon or
twelve o'clock at night. They are not a strong, healthy race for
they cannot stand the hardships that white soldiers do. Sickness
takes their spirits away and they give right up and die. It is
almost impossible to check a chronic disease in any of them. I
have had five or six die of chronic dysentery. "

I found that slaves under the command of good white officers made very good soldiers; but cannot say that they are as good in the field, under lire, as white troops are. It could not be expected. There was a wide difference between a young man brought up in the North, educated and free, a volunteer ready to lay down his life for his country, and a poor ignorant slave.