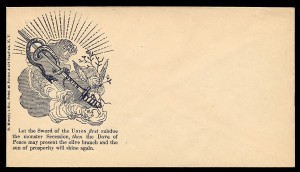 Union soldiers BY FAR marched off to war in 1861 & 1862 to defend the Union, preserve it, and defend the constitution and this is not any more demonstrated than in Civil War era patriotic (Union) letter envolopes.
Let the Sword of the Union first subdue the monster Secession, then the Dove of Peace may present the olive branch and the sun of prosperity will shine again.

Description: A hand holding a Union sword emerges out of the clouds with a snake wrapped around it. A dove with an olive branch in its mouth rests above the hand. Sun rays come out from behind the clouds. Envelope of white paper with gray ink. Image on left side.
Printer: D. Murphy's Son