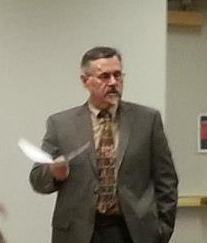 Charles J. LaRocca is a retired high school and college level history teacher who founded a student research and reenactment group based on the 124th New York. He has published articles and two books and lives in Montgomery, New York. His most recent work is The 124th New York State Volunteers in the Civil War: A History and Roster, which is really more than just a book for Mr. LaRocca, but the culmination of a two decade historical and personal journey.
THE INTERVIEW
Mr. LaRocca please tell me a little about yourself? Also, you've been researching and studying the 124th New York for some time now, can you give a brief account for how you became interested in the regiment and how long it took to research and write this outstanding history?
I'm married with two children and four grandchildren, a graduate of Penn State, and was a history teacher in the New York public schools for 33 years. I taught a Civil War history course at the local community college and a course at SUNY New Paltz that prepared history candidates for student teaching. I became interested in the 124th NYSV in the early 1970's through discussions with a fellow teacher named Richard Carvel at O'Neill High School, Highland Falls, NY. He suggested that I read the regimental history of the 124th NY. What I found was a story that was most compelling and a subject that would become a second career for me paralleling teaching. I began serious research on the 124th in the early 1980's as part of a student research and reenacting program I started with three other teachers, including Rick, at OHS. In 1988, I moved to Pine Bush High School, also in Orange County, and there continued the student research and reenacting program. Along the way, I got a couple of research grants and published a few articles on the 124th NY as well as two books. This book, my third, is the result of about fifteen years of research and writing but I must admit that, had I been a more disciplined writer, I'd have finished it much sooner.
The regiment was formed mainly in Orange County thus their nickname, Orange Blossoms, a name they would carry throughout the war. Was it their Colonel (Ellis) who first started referring to them as such? They were also called the "American Guard," which did they prefer?
You are correct that the regiment was raised mostly in Orange County, in the mid-Hudson region of the state, although there were a number of volunteers from outside the county. Colonel Augustus Van Horn Ellis is an example. He was born and raised in New York City, travelled to California during the Gold Rush, captained a Vanderbilt steamer, and moved to Orange County in the mid 1850's to marry into the Verplank family of Vail's Gate. He did indeed give the regiment its most famous nickname during their second charge at the Battle of Chancellorsville when he called out "Hi, Hi, my Orange Blossoms !" to rally his men and retake an artillery emplacement . At various times he called the regiment his Bullfrogs and his Tulips, the latter being used when the men were lying down and he wanted them to quickly rise up. Fortunately, neither of these last two stuck. "American Guard" was the nickname of the 71st NYS Militia, the unit Captain Ellis served in at Bull Run as the commander of a two gun battery. I think he had it painted on the first battle flag of the 124th NY as a remembrance of his brother, Captain Julius Ellis, who was killed at Bull Run leading his own company of the 71st. Incidentally, Mel Johnson, curator at Washington's HQ State Historic Site in Newburgh, NY, told me that "hi, hi" was a call that 19th century firemen used to rally while fighting a blaze. Ellis was a member of a San Francisco fire company during his Gold Rush days.
Speaking of Colonel Augustus Van Horne Ellis, he was quite the character: brave, tough, and a good leader. The men seemed to look up to him.
I think they were afraid of him. He once threatened to cut off the hand of one of his sergeants who was out of position during drill and, on another occasion, beat the hell out of teamster who was mocking his regiment. He had a short fuse, knew how to fight and use weapons, and had an impressive command of profanity. He had been, after all, a tax collector and some kind of law enforcement officer in the gold rush as well as a member of the Vigilance Committee in San Francisco and a ship's captain. None of those were for the timid. He was used to giving orders and having those orders obeyed.
I loved the relationship between Ellis and Chaplain T. Scott Bradner, did he ever "cure" Ellis of his swearing? Any stories that stand out with regard to their interaction?
There is the story of how Bradner preached a sermon on the evils of profanity while standing right next to Ellis. I think the point was not lost on the men but I'm not sure how effective it was on Ellis.
The regiments first real test was at Chancellorsville, where they sustained the first of many heavy losses in battle. As you noted, a lot of these men grew up together and within short distances of one another, how did such severe losses of friends and family members impact the men?
I'm sure there were many sets of brothers and some father and son combination. Brothers included the Howells, Murrays, Estabrooks, and Foleys, three of whom were killed if I'm not mistaken. The Weymers were father and son. The impact of casualties among close friends and relatives had to be devastating to the soldiers and especially to their families. One of the best 124th letters you can read was written by Pvt. Henry Howell to his mother on May 14, 1864, in which he told her that he was wounded and his brother William killed in the charge at Spotsylvania. "It gives me pain to think of the sad news which it is my duty to communicate to you. William fell wounded in the breast on the morning of the 12th inst. Those who saw him thought it was so bad that he could not live. . . .Mother he may be living, but if not let us console ourselves with the thought that he died when a patriot would have been proud to die." These couple of sentences clearly illustrate the willingness of soldiers to sacrifice for their country and the impact that can have on a family.
By and large would you say the motivation for these men for enlisting was mainly to save the Union and defend the Constitution? Was there any significant number of abolitionist members? And politically were the men more Republican or Democrat?
The overwhelming motivation was to save the Union. I found little positive sentiment toward abolitionists but quite a few statements to the effect that if the abolitionists felt so strongly about freeing the slaves, why weren't more of them in the army? The men in the ranks had little use for Peace Democrats or Copperheads and a number wrote that they wished they had been called to NYC to put down the draft riots as they would rather shoot the traitors at home than the Rebels. Many used the usual pejorative terms and stereotypical descriptions of African Americans, slave and free, in and out of the army. Words like nigger and darky are offensive to our ears but were used even by those who seemed to be sympathetic. I think the soldiers knew, or would come to know, that whether they liked it or not, the war to save the Union would destroy slavery as well. Even your relative, Col. Weygant, wrote that one of his black servants was "the finest piece of ebony not in jail." Over time, one can notice a grudging respect toward black troops. Captain Henry Travis referred to them as "bricks" as he witnessed the fight at The Crater and one of the soldiers commented sardonically that the white troops didn't seem to mind occupying the enemy earthworks the "darkys" had captured.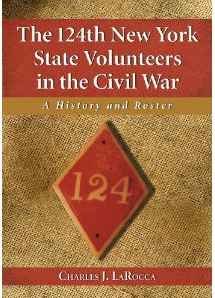 What were the men's feelings toward Lincoln? How did their view of him evolve as the war progressed? They didn't seem to be big fans of McClellan.
They served under McClellan for just a short time and did not develop a strong positive attitude toward him. Many liked Joe Hooker and even after the defeat at Chancellorsville were eager to go into battle under him again. I don't think they ever warmed up to Meade. They took a wait and see attitude toward Grant but came to the conclusion that his way of campaigning would end the war. Pvt. Henry Howell wrote from Lincoln Hospital in Washington as early as May 17, 1864, "I met considerable reinforcements for Grant on my way up here. I think the way he is doing the thing up he intends to annihilate Lee before he gets through with him for our army instead of getting smaller on account of killed, wounded, and missing it is kept about the same size all the while. Lee cannot do that certainly." As for the president, he did not carry Orange County in the 1860 election. In the off year election, Democrats made additional gains in many local offices and it was said that there were areas in Orange County where a soldier home on leave dare not go in uniform. When the president inspected the troops in the spring of 1863 right before Chancellorsville, the men commented on how tired he looked. One of them wrote home that Lincoln looked like he should be sitting in a rocking chair on his porch instead of leading the nation. Over time, however, the men began to recognize him as an effective leader. In a regimental straw poll before the 1864 election Lincoln beat McClellan by about 5 to 1 — and he did carry Orange County in 1864.
Is there one incident that you wrote about that jumps out as being symbolic of the regiment and its experiences during the war?
That's a tough question. I've seen more letters home and accounts of their participation at Chancellorsville than from any other battle. I guess that's because there were more men who participated in that battle than in any of the others. It was their first big battle, the one where they established their reputation for courage under fire. "Our men fought like tigers," Ellis wrote in his after action report, "cheering loudly but falling fast." Chancellorsville was where Col. Ellis gave them their nickname and where they began the practice of wearing orange ribbons in a button hole of their jackets. But the great charge of the 2nd Corps at Spotsylvania on May 12, 1864, is also a pivotal moment in the history of the regiment. The 124th NY had been battered in more than a week of fighting and marching through the Wilderness. Col. Cummins had been wounded early in the fighting and Lt. Col. Weygant took over command of the regiment. The exhausted men endured a night march in the rain to reach their position north of the Mule Shoe where they huddled, awaiting orders to advance. The charge was successful in that the Confederate line was breached but desperate fighting and strong counter attacks kept the Union forces from fully exploiting the breakthrough. If there was a symbolic moment, it might have been when Corp. Archibald Freeman took the flag of the 15th Louisiana in the fighting on the earth works at the Bloody Angle. Just as Chancellorsville established them as a fighting regiment, Spotsylvania showed their determination under very trying conditions.
After Ellis and Cummins are killed and wounded, Charles Weygant took command of the regiment and would finish the war as their Colonel the regiment seemed to be extremely lucky –when compared to others– that it would have fairly competent and able colonels throughout the war.
Col. Ellis, of course, raised the regiment and made the men into soldiers. His imprint on the 124th NY cannot be overstated. He was competent, colorful, and a great leader. Col. Francis M. Cummins was much beloved by the men in the ranks and they knew that he fretted over their welfare. He visited the men often in the hospital and handed out money until his wallet was empty so that they could buy the little extras that might help them recover. There were rumors of his drinking right up through the day a wound put him out of the service but there can be no doubt that he was a good leader. A complaint by a former officer of the regiment that Cummins was a "habitual drunkard" was ordered to be investigated by Major General Birney. No serving officer of the regiment would speak against him and the charge was judged to be "malicious and untrue." Col. Charles H. Weygant was young when he took over just at the start of the Overland Campaign but had served under Cummins long enough to learn the job. The photograph taken of the officers just a day or two before they crossed the Rapidan shows a confident looking Weygant and a cocky looking Cummins. Weygant ably led the regiment through the Wilderness, Laurel Hill, and Spotsylvania, where he was wounded. He returned to the regiment at Petersburg and was wounded again near the end of the war. He was present and at the head of the regiment when they returned to Newburgh and marched through the city streets to be mustered out at Washington's Headquarters. There is no question that Weygant was an effective commander.
What engagement did the men reflect on the most with regard to how intense the fighting was? Any one moment stand out in any one battle?
Gettysburg was the battle they reflected upon, especially in later years. The charge they made on July 2nd, cost the lives of Colonel Ellis and and Major James Cromwell as well as many others in the regiment and was another of those pivot moments in the history of the regiment. In describing the charge, Sgt. Harvey Hanford wrote, "What a mad act it was," to leave the security of Houck's Ridge to, "lock arms with Longstreet." The regiment erected two monuments at Gettysburg, the Ellis Monument on Houck's Ridge and a second monument just north of the Pennsylvania Monument to mark their position on July 3rd.
Briefly tell me about how you ended up with McFarland as your publisher, did you approach any University presses?
I sent out letters to the university presses, 25 in a batch, and I did it at least three times during my research and writing. I got nothing but rejections (kept them all) except for those who ignored my proposal altogether. Needless to say, the experience was discouraging. I wrote to Stephen Sears and asked if he could suggest a publisher; he suggested several but he also gave me some very good advice. He said publishers are wary of regimental histories because the market for them is so narrow and that such a history had best be a "labor of love" as I may not find a publisher willing to take it on. His realistic appraisal put my work into a context such that I determined to press ahead and write the history even if it never was published. Compiling the story the soldiers had to tell was what was important and I would worry about publishing once that was done. I found McFarland accidentally while reading book reviews in The Civil War News. I saw Martin Husk's history of the 111th NYSV reviewed I think by Mike Russert so I called Martin, who I'd known from reenacting some years back. I asked how McFarland was to work with and he recommended them. I contacted McFarland, followed up with a couple of chapters and an outline, and got the first nibble ever. As it turned out, they were very good to work with. We had our disagreements but, as it turns out, they know their business. Anyone submitting to them should know that they expect the final manuscript to be pretty much ready for press. They did a good job editing and made a number of suggestions, most of which I agreed with. I did a final editing and they agreed with all the changes I wanted to make, some at the last minute. I found their staff to be professional and very helpful with any request I've made through the entire process.
You did some research on the connection between Stephen Crane's "Red Badge of Courage" and the 124th, can you please briefly share that here for us?
I published an historically annotated edition of The Red Badge of Courage with Purple Mountain Press located in upstate New York. In this book I tried to show that the historic record of the 124th New York at Chancellorsville closely matched the actions of the fictitious 304th New York in the novel and that Crane based his novel, at least in part, on the "Orange Blossoms" in that battle. He wrote a good bit of the novel while he lived with his brother in Port Jervis, New York, and local tradition has it that he often talked to CW vets who liked to hang out in the park and share their war stories. Among them would certainly have been members of the 124th New York.
Finally, as the war ended and faded from memory how did the regiment reengage in remembrance, in particular reunions and gatherings after the war? Any stories stand out? Did they record or publish the proceedings of their reunions, or write about them?
I'm not sure the men of the regiment ever disengaged once they went back to their civilian lives. They took General Logan's words seriously: "Let no vandalism of avarice or neglect, no ravages of time, testify to the present or to the coming generations, that we have forgotten, as a people, the cost of a free and undivided Republic."
They created a veterans group, The Society of the 124th New York State Volunteers, which was separate, as far as I can tell, from membership in the GAR. There were two GAR posts, one in Newburgh and the other in Middletown, both in Orange County. Weygant published his history in 1877, close in time to the end of the war when compared to some other regimental histories. If I'm not mistaken, the 124th erected the first privately funded regimental monument at Gettysburg as well as a monument in the county seat of Goshen, one in Port Jervis, and others scattered around the county. In most cases, donations were taken but the final amount was reached when an anonymous donor made up the difference. That donor usually turned out to be Capt. Thomas Bradley, businessman, Medal of Honor recipient, member of Congress, and a veteran of Company H, 124th New York. They held annual meetings that were always covered in the local press and marched in Memorial Day (Decoration Day) parades well into the 20th century. There were several group trips to Gettysburg, again, well covered in the press, and I'm sure many made the pilgrimage by train with family and friends. In 1913 Henry Howell took it upon himself, with the backing of The Society of the 124th NYSV I'm, sure, to gather as many who fought near Devil's Den, both blue and gray, to meet there on July 2nd, 1913, shake hands and share their remembrances. I have in my collection a number of replies to Howell's idea and apparently they had quite a turnout.