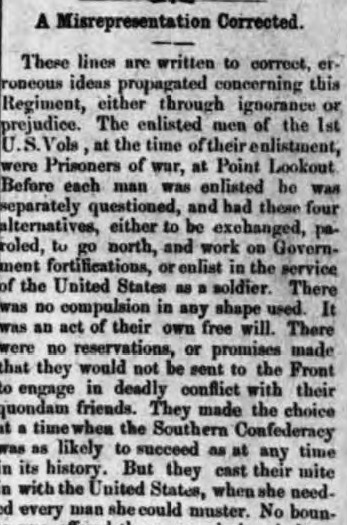 Back in April while doing some research on the 50th Wisconsin Infantry I am across some interesting documents concerning what we know as "Galvanized Yankees." I mentioned here the availability online of the Frontier Scout Newspaper, published in 1865 & 1866 at Fort Rice (and briefly at Fort Union), Dakota territory. The 1st U.S.V.I. was a "galvanized" unit recruited at Point Lookout prison camp from January to April 22, 1864. They would ultimately be sent out West to Fort Rice to garrison a key fort along important trails for settlers and immigrants. While there they experienced severe hardships, and some conflict with Indians. However, the battle they had to fight first had nothing to do with a combatant. To cure the boredom of Frontier service (they luckily did not have any significant engagement with Indians) the Galvanized Yankees took to printing a regiment newspaper. And in their first issue they took great pains to assure everyone (who had concerns) that they would be on their best behavior, and most importantly, would be loyal and true to the Flag of the Unite States of America. Their motivations for taking the oath of allegiance and enlisting in the U.S. army were expressed as follows:
These lines are written to correct, erroneous ideas propagated concerning this Regiment, either through ignorance or prejudice. The enlisted men of the 1st U.S. Vols, at the time of their enlistment were Prisoners of war, at Point Lookout. Before each man was enlisted he was separately questioned, and had these for alternatives, either to be exchanged, paroled, to go north, and work on government fortifications, or enlist in the service of the United States as a soldier. There was no compulsion in any shape used. It was an act of their own free will. There were no reservations, or promises made that they would not be sent to the Front to engage in deadly conflict with their quondam friends. They made the choice at a time when the Southern Confederacy was as likely to succeed as at any time in its history. But they cast their mite in with the United States, when she needed every man she could muster.
The motivation(s) seem fairly clear and their case for their defense is pleaded with strong conviction in the face of whatever accusations were tossed at them. Most will die of disease, one or two from Indian attacks, but by and large they suffered through a horrendous climate manning a fort that at the time was in the final months of peace before the outbreak of Indian fighting after the Civil War.