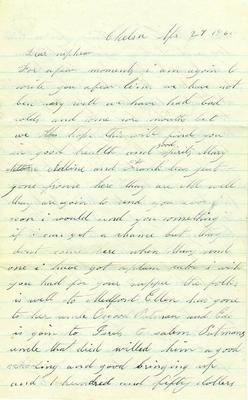 Letter to and un-known Civil War soldier:
Chelsea, Apr. 7, 1862

Dear Nephew,

For a few moments I am again to write you a few lines. We have not been very well. We have had bad colds and some sore mouths, but we hope this will find you in good health and good spirits. Mary, Adeline, and Frank have just gone from here. They are all well. I have got a plum cake I wish you had for your supper. The folks is well to Medford. Ellen has gone to her Uncle Osgood Putnam's, and Ed is going to Israel's to Salem. Putnam's Uncle that died willed him a good schooling and good bringing up, and 1 hundred and fifty dollars. That will be something for a little boy, and Put is a goin' [to] California next week. Sam has been here today. He is to work in Summerville where he was last year. He sends his love to you and he wants to send you some tobacco. He feels bad about you. He hopes that if you go into action that you go in prepared for your lot if you should be one to fall. I want you to send me your miniature. [this is in reference to a photograph] I wrote to you when you first went away. I have not much to write and my pen is poor, but it will let you know we have not forgotten you. I hope you will answer it and tell us all [the] news and how you prosper. There has been a skirmish near Norfolk. George Campbell wounded. Old Darrell's son-in-law was killed, it was George Noyes. There was 9 killed and mortally wounded, and twelve more wounded, but not so bad, all out of our Chelsea company. I must close wishing you all the good luck and prosperity. Write me as soon as you can. Send me some seeds. If there is any, send in a letter. So good by. You light your pipe with this after you study it.

From,
A. Buzzell

Dear Cousin,

I will send you a paper if you will send word what kind you would like to have. If you ever encounter any of those scoundrels stick to your horse till he falls. Run every one through you get near, and shoot the rest. If you get any Rebel letters send us a few, or some Rebel money if you please.

Alfred A. Buzzell
The two soldiers mentioned in this letter, George W. Campbell, and George A. Noyes, were both from Chelsea, Mass., and served in Co. H, 1st Massachusetts Infantry. Campbell was wounded at Yorktown, Va., and Noyes was killed there.