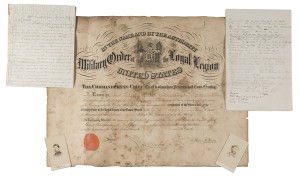 We are looking for the person who won the auction for William Boardman Reed collection. We are very interested in the 20 page letter concerning his adventures at Fort Rice. If you happen to have information please contact us.
In the last days of the Civil War, William Boardman Reed, a veteran of the famed 2nd Wisconsin Infantry, was commissioned as Lieutenant of Co. I, 50th Wisconsin Infantry, the last full regiment raised in the state. After performing duty in northern Missouri, "restoring civil government," the regiment was sent to Fort Rice, Dakota Territory, in October 1865, where they replaced a regiment of "Galvanized Yankees." Although posted in hostile territory, the regiment suffered losses primarily to desertion and disease before being mustered out in June 1866.

The Reed collection consists of only five items, but two are noteworthy. In addition to a large MOLLUS certificate (1891?) and two handsome cartes de visite — one signed carte of William B. Reed in Civil War uniform, April 1865 (photo by Outley, St. Louis), and one of a highly whiskered Reed dated April 1870 (photo by Wenderoth, Taylor & Brown, Philadelphia) — the collection includes an interesting list of Dakota words and phrases. Apparently recorded during service at Fort Rice, the list suggests that Reed was well educated and had some knowledge of linguistics.

The most important item in the collection, however, is a closely written 20p. letter from Reed to his father dated at Fort Rice on Jan. 14, 1866, much of which describes a great buffalo hunt, "one of the remarkable events of my life." Stuck in winter quarters and weary of the monotony, Reed writes that he jumped at the opportunity for a hunt when it was proposed. With ten fourteen offices and 33 or 34 men, the party was joined by a party of about 80 Yankton "Sioux," each with two or more horses, one designated as a "buffalo horse" for its running abilities.

"It was a motley looking crowd, we of the pale faces with our buffalo skin caps, mittens, pants, and moccasins, rivaling even the Indians in grotesque attire, and I remarked to some our townsmen, that I would give a considerable sum to have the party ride through Lancaster looking as it then did…"

At their first encounter with a straggling herd, twenty Indians were dispatched to the kill, using bow and arrow so as not to disturb the larger herds.

"These hunts are conducted in a very systematic manner by the Indians, and are affairs of the greatest importance to them, for by means of such a general hunt as this one, they supply themselves with their winter's meat and a supply of skins with which to make their clothing, bedding, and houses, and to trade for little articles of luxury. This detachment killed five of the eleven buffalo above mentioned and brought them in soon after…"

After two days too cold to hunt, the party then rode onto a larger herd:

"we started out, riding at a smart trot or gallop in an easterly direction. The Indians made frequent halts to scout ahead in the fog. Presently they seemed much excited urged their horses faster, and soon they rode suddenly to their pack horses standing just behind the brow of a hill. They rushed around these in an excited manner, hurriedly stripped off the saddles and chopped them all the atoms — then took the horses and rushed on again. After going a short distance further those in advance uttered a kind of suppressed yell, suddenly swooped around into a little ravine and pounced upon two or three Indians, who were skinning a buffalo there. They stripped of their robes which they (the two or three) were wearing and cut them in pieces. Then each of the party struck them (the Indians) a blow with his whip or bow. The whole thing was at first a mystery to the balance of us, and some started the rumor that it was a party of hostile Sioux (Santes) which they had come upon, but we soon learned that these were some of the Indians composing our party, who becoming impatient, had rushed on ahead, and run into the herd of buffalo, killing one or two, and driving the rest further off — a dastardly trick, for which they were none too well punished…"

The account goes on in great detail about Indian hunting techniques:

"The whole herd consisting of one hundred or more buffalo came charging over a little eminence directly towards us, closely followed by the detachment of thirty or forty Indians, many of whom were right in the midst of the herd, shooting right and left, into the buffalo all around. We hastily deployed ourselves into line and charged against the herd, turning the living stream of animals to the left. The firing was now brisk on all sides. The Indians guiding their ponies by the motion of their bodies, dashed hither and thither in the midst of the herd, silently slipped their iron pointed arrows into the shaggy beasts on all sides, while we, the representatives of the 50th Wis. generally each selected his buffalo, following closely after him, and firing as opportunity offered…"

Reed stayed out hunting as much of his party returned the next day, hauling a herd of carcasses with them, and during another blood orgy, describes getting separated from the other hunters after facing off with a heifer and skinning her and making his way back to the fort in an arduous wandering course.
Source: http://www.cowansauctions.com/auctions/item.aspx?ItemId=63657