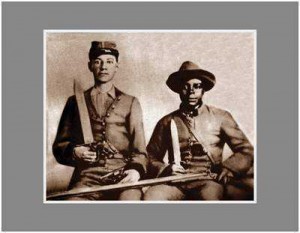 I don't know if I have ever really engaged in the Black Confederate Myth (BCM) thing as I always felt like Levin and others have done a nice job dismantling it. But today I came across this site/store REBELSTORE.com and the print shown here (and forgive me if this particular place has been addressed by someone?). I've seen this photo effectively dealt with and how it has been used to promote the mythology of blacks fighting for the South. But this website's description really blew me away, it reads:
Professionally printed lithographic print on glossy stock of a Historic Photographic Print from 1863 of two Confederate Soldiers armed and ready to protect their sacred homeland from foreign invaders. Own a historic print in which many folks deny ever happened – Black and White Confederate Soldiers fighting side by side!
Wow, when I encounter such distortion of history like this, well, its outrageous and it brings me to openly support those historians who take on the perpetrating of such myths! I don't know why past things I have read (seen) on other blogs hasn't caused such a stir with me; but so be it.
[image source: http://www.rebelstore.com/2sonsmat.jpg]