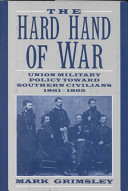 C-SPAN Panelists discussed Mark Grimsley's book, The Hard Hand of War: Union Military Policy Toward Southern Civilians, 1861-1865, which was the featured book of the 2012 Civil War Institute Summer Conference at Gettysburg College. He responded to questions from the audience.
Coincidentily I am in the middle of our Civil War unit in my APUSH Class and we discussed Hard War today.
To watch this excellent panel discussion click here.