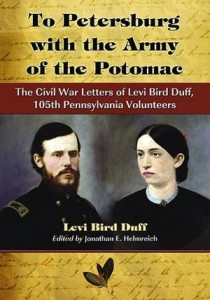 Levi Bird Duff, To Petersburg with the Army of the Potomac: The Civil War Letters of Levi Bird Duff, 105th Pennsylvania Volunteers, McFarland; 240 pages; paperback; ISBN-13: 9780786444304.
From the Publisher: The letters of Levi Bird Duff present a perceptive picture of life in the Army of the Potomac from 1861 to 1864. They are unusual for their literacy, descriptions and continuity, the strength of opinions expressed, and their source: a private who rose to the rank of lieutenant colonel, thus a witness of the army at several levels. Leadership, organizational, weather, and morale problems that plagued Union troops are made clear. Written only for the eyes of Duff's love, the messages reflect the tension experienced by many soldiers between the conflicting calls of duty and affection.
Edited by Jonathan E. Helmreich, historian and professor of history at Allegheny College, the letters of Levi Bird Duff and his wife are an interesting insight into the life of a common soldier and his relationship with his wife as well as his profession as a soldier. Though not the typical soldier as Duff was clearly an abolitionist, his thoughtful reflection and passionate discourses offer the Civil War historian and enthusiast a personal and at times powerful take on the Civil War. Daily life of a soldier and the trials and tribulations are keenly captured along with Duff's views on slavery, Emancipation, President Lincoln, as well as the generals that lead him. Duff was not a fan of McClellan and rarely had anything positive to say about him as a leader and a person. Actually one of the more interesting aspects of the book (and its letters) is the authors reflection and opinion on the war and the direction it was taking. Often Duff expresses frustration of the lack of vigor with which the war in his eyes was being perused. I highly recommend To Petersburg with the Army of the Potomac for both the historian and avid reader of the Civil War.