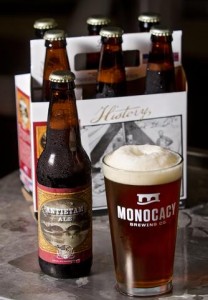 The first of nine beers to commemorate the 150th Civil War anniversary — Antietam Ale — is now on tap.
The concoction was derived from a number of beer recipes from the 1800s and researched by National Museum of Civil War Medicine researcher Terry Reimer.

Monocacy Brewing Co. in Frederick bottled the first batch Sept. 28 for distribution.

Antietam Ale is based on a recipe for an English-style ale once brewed by Brewer's Alley — a style commonly referred to as an ordinary bitter, Brewer's Alley marketing manager Jim Bauckman said.

The National Museum of Civil War Medicine provided brewmaster Tom Flores with a variety of historic recipes that likely resemble the flavor profile of Antietam Ale, Bauckman said.

The strength is relatively low compared with that of modern beer renditions, Flores said, but making the brew still involves a lot of complexity.