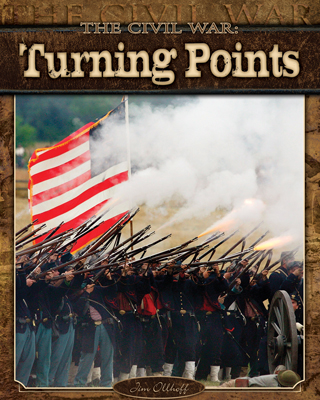 In fiction writing there are things called "Plot Points," these send the narrative in a new and unexpected direction. These story points make up the important parts of the story and bring it ultimately to a conclusion.
In history, there are "Turning Points" that send the trajectory of time and space into new and unexpected directions.
When looking at the American Civil War we can find many important events and ultimalte "Turning Points." Historians have debated mightily the significant events that led to THE turning point of the Civil War. Was Gettysburg the moment when the South lost the war? Did the fall of Vicksburg and the loss of the Mississippi ultimaltey doom the Confederacy? Or maybe it was Sherman's taking of Atlanta, and its impact on Lincoln's 1864 reelection, that was the final nail in the Rebellion's coffin?
For some the main key Turning Point may not have been any of these. For example, Dr. Ethan Rafuse contended recently that the First Battle of Kernstown, 23 March 1862, was the turning point due to its impact on Washington and Lincoln's obession with a Confederate attempt to take the capital. This in turn led to him, in Rafuse opinion, to undermine McClellan's Peninsula Campaign.
No matter what your view is, there are many possible candidates for the KEY Turning Point, however I would contend that to come up with one be left to History 101 classes and only for the sake of simplicity.
Whether we beleive in Historical Contingency, the possibility of a multitude of Turning Points, or the fascination with just one key event, we cannot ignore that the relationship of one event to another is what makes history so invigorating.