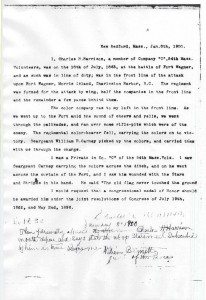 The story of Sgt. William H. Carney's heroic efforts on July 16, 1863, at Fort Wagner, which later earned him a Medal of Honor, is the stuff of Civil War legend; and yet not always told.
Though it was not unusual for MOH recipients to not be awarded for some time after the event, for African-American soldiers the struggle to be recognized was almost always arduous if not impossible.
The following is a report Charles H. Harrison (who served with Carney) and he describes the charge and Carney's actions including the famous quote: "The Old flag never touched the ground." After numerous confirmations of Carney's exploits he was awarded the Medal of Honor.
New Bedford, Mass. Jan. 8, 1900

I, Charles H. Harrison, a member of Company "C", 54th Mass. Volunteers, was on the 16th of July, 1863, at the battle of Fort Wagner, and as such was in line of duty: was in the front line of the attack upon Fort Wagner, Morris Island, Charleston Harbor, S.C. The regiment was formed for the attack by wing, half the companies in the front line and the remainder a few paces behind them.

The color company was to my left in the front line. As we went up to the Fort amid the sound of cheers and yells, we went through the palisades, and ran over some rifle-puts which were of the enemy. The regimental color-bearer fell, carrying the colors on to victory. Sergeant William H. Carney picked up the colors , and carried them with us through the charge.

I was a private in Co. "C" of the Mass. Vols. I saw Sergeant Carney carry the colors across the ditch, and on he went across the curtain of the fort, and I saw him wounded with the Stars and Stripes in his hand. He said "The Old flag never touched the ground."

I would request that a congressional medal of Honor should be awarded him under the joint resolutions of Congress of July 19th, 1862, and May 2nd, 1895.
Source: Statement of Charles H. Harrison, January 8, 1900, New Bedford, Massachusetts, Page 1; Documents Relating to the Military and Naval Service of Blacks Awarded the Congressional Medal of Honor from the Civil War to the Spanish American War, National Archives Microfilm Publication M929, Roll 1, Records of the Bureau of Naval Personnel, Record Group 24, National Archives, Washington, D.C.
Note: Credit for this post lies with Faces of the Civil War where I first encountered this source.