Camp 4 miles south of Strasburg, Va.

March 29th, 1862

My dearest Eliza,

Time continues with its changes, of which we are at times its subjects.

Since last I wrote we have had a battle, gained a victory and advanced 24

miles further to the south. I think I told you of an intended advance soon to

take place but it came sooner than intended.

On Saturday afternoon last the enemy were seen to be advancing upon

Winchester from the south and being opposed by the small force posted on

that side of the town a sharp skirmish ensued in which 29 of the enemy were

"laid out cold". Our loss was one killed. Gen. Shields sustained a compound

fracture of the arm from the explosion of a shell at the enemy's first fire.

Gen. Banks being the first in Winchester had a sufficient force belonging

to his division posted in and to the south of the town and when our division

(Shields) came up it encamped on the north side of the town. On Friday and

Saturday Banks moved the most of his forces away leaving the town partially

exposed and it is supposed that the rebels thought Winchester to nearly clear

of our troops and thought to occupy it once more. The main body of Shields

forces arrived just in time to see the rebels repulsed and night coming nothing

further could be done. What the strength of their forces were we knew nothing

of or whether the attack would be renewed in the morning or not.

The next day (Sunday) the attack was renewed, but a distance further

(3 miles) from the town. Our brigade arrived on the grounds at about 11

o'clock A.M. at which time the cannonading had been going on for about an

hour and a half. When we arrived the enemy were attempting to turn our left

flank and to that part of the field we were sent. Here we were exposed to a

heavy cross fire of shot and shell from the enemies guns, but it soon became

apparent that a movement was being made toward our right wing by the

enemy. Our regiment being left to watch the left the rest of the brigade went

to the support of the center but still the enemy's cannon continued to pour its

fire in upon us. A battery was ordered to our relief but came near being

dismounted before it could be got into position but when once in position it

was not long in putting a quietus to the rebels in that part of the field. Thus

matters progressed until between 4 and 5 o'clock when the action began with

musketry and from that time until night put an end to it. It was one continues

roar of small arms. In the time our troops drove the enemy from the field and

took four of their cannon. The rebel killed was about 300-500 wounded and

200 taken prisoners. Our loss was from 80 to 100 killed. That night we slept

on our arms and at the earliest dawn we were again advancing and to this

place we have followed them. Here we must wait until supplies sufficient are

brought up to enable us to go ahead. As soon as we halted the enemy halted

and are to be seen each day less than two miles distant. Since Gen. Shield's

misfortune, Gen. Banks has commanded in person.

Our regiment lost none and but one wounded although exposed to a

galling fire for about three hours. It has been a most glorious victory and the

beginning of the contest of the late "army of the Potomac".

But how different that Sabbath day from so many of former times and

from many I hope to see the future when no mortal contests shall man the

peace and quiet belonging to the day.

We have had most beautiful weather this week until today, which is

cold and stormy. But you know that "Some days must be dark and dreary"

and this is one outside, but within our "Sibley" a warm fire drives the

discomforts of the day away. I suppose you are at home ere this amongst

your old kind friends. Don't think the spots on this sheet are tear drops for

it is rain drops coming through the ventilator.

Most affectionately yours,

Allen
The above letter was written by one "Allen" of a Pennsylvania Regiment after the Battle of Kernstown on March 29, 1862 to a Eliza M. Frazier, Susquehanna Depot, Susquehanna County PA. There were only two Pennsylvania regiments (84th and 110th) that took part in the engagement, which was good as it made the search for "Allen" a little easier. I initially assumed they were married and searched for an Allen Frazier in the Civil War Soldiers and Sailors System, but turned up nothing. I did a little research on Ancestry.com and found that Eliza M. Frazier [Susquehanna Depot, Susquehanna County PA.] was born in 1834 and passed away in 1916. She never married any "Allen" and as late as the 1880 United States Federal Census she was still single.
Next it was on to Pennsylvania in the Civil War and a search through the regimental rosters for each regiment. I found 7 Allen suspects:
84th
Hines, Allen W. Private 1861 F (Lycoming County) Discharged on Surgeon's Certificate, June 30, 1862
Freeman, Allen Private 1861 G (Cameron and Cumberland Counties) Died at Camp Kelly, February 10, 1862
Reams, Allen B. Private August 30, 1862 H (Clearfield and Dauphin Counties) Transferred to Company K, 57th Regiment P. V., January 13, 1866

110th
Chilcoat, Allen E. B (Huntingdon County) Private October 24, 1861 Not on mnuster-out roll
Douglass, Allen Private E (Recruited in Philadelphia) Not on muster-out roll
M'Pherson, Allen F (Recruited in Philadelphia) Private September 10, 1861 Transferred to Company E, date unknown
Matley, Allen K (Centre and Clearfield Counties) Private December 19, 1861 Not on muster-out roll
The next thing I did was simple geography, which of these companies the men were from were located (mustered in) anywhere near Susquehanna County, PA. I was immediately able to eliminate the companies recruited from Philadelphia and south central Pennsylvania. That left it to the closest county and Allen W. Hines of Lycoming County was it. However, the distance from Eliza was still troublesome. It's a very inexact science to assume that distance was a deciding factor, even though we're dealing with the mid-19th Century. However, it seems reasonable that the two knew each other and that they had to have met somehow, thus distance was important. I then realized that the county she resided in bordered New York and what if this Allen was from a New York regiment? However, no NY regiments took part in the Battle of Kernstown.
I next decided to review the letter's content again and see if it gave me any clues. I still would like to narrow the guy down to either of the regiments. Allen wrote in the letter: "Our brigade arrived on the grounds at about 11 o'clock A.M. at which time the cannonading had been going on for about an hour and a half. When we arrived the enemy were attempting to turn our left flank and to that part of the field we were sent." I decided to find a good map of the engagement and look at the placements of the two regiments: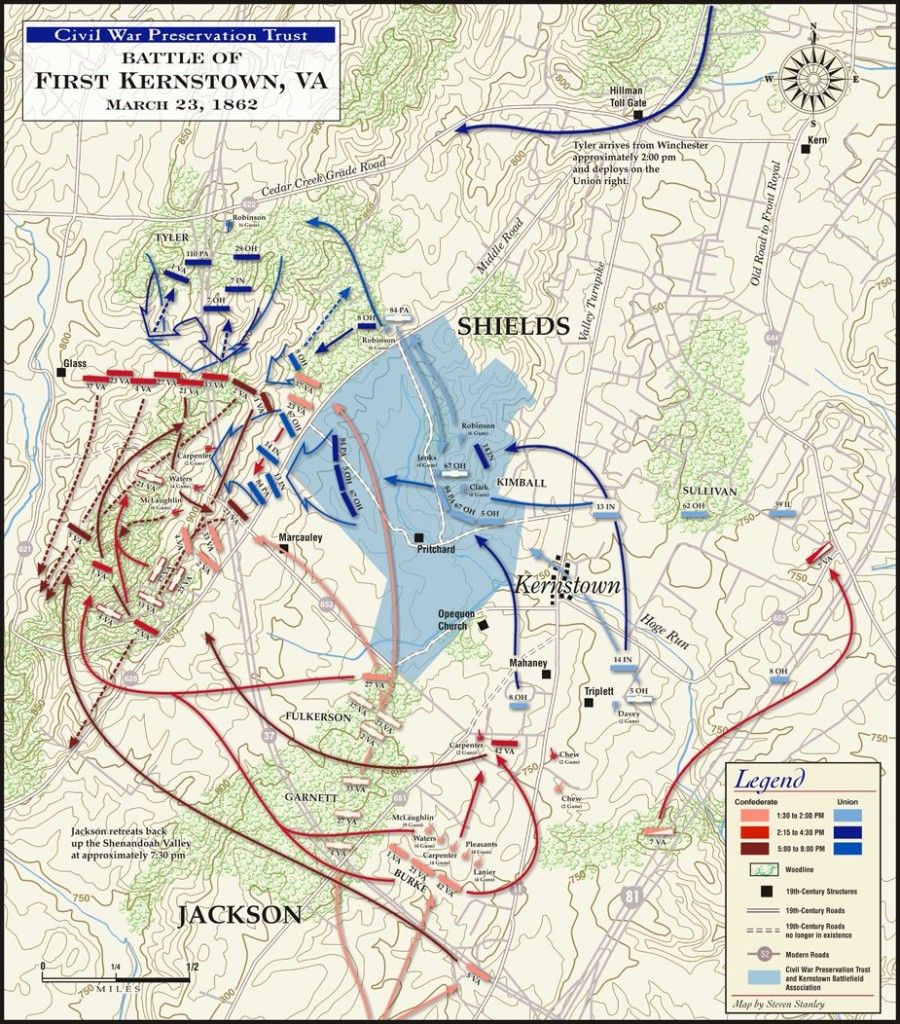 [click it for a bigger version]
First, Allen describes the fighting that takes place on a Sunday, and indeed the map is in reference to this engagement. If you notice the 110th [Look next to TYLER] is not on the "left" of anything, whereas the 84th [look below, and left of SHIELDS] is on the "left" of the line as far as Allen would have been concerned during the fight not having a map to help him. And his description of the battle seems to collaborate that he was in the 84th and not the 110th. The 84th was indeed on the left and moved right, as described by Allen.
So based on geography and that I am pretty sure he was in the 84th Regiment, I feel confident that the Allen who wrote this letter was Allen W. Hines, Private from Lycoming County, which was relatively close to Eliza's home. Allen was discharged on a Surgeon's Certificate, June 30, 1862, and returned home but was not destined to marry his sweetheart.
So do you agree? After spending only an hour or so on this and knowing that there are some issues with my methodology, I'd like to hear from anyone if there is another or better way to find out who Allen was for sure?