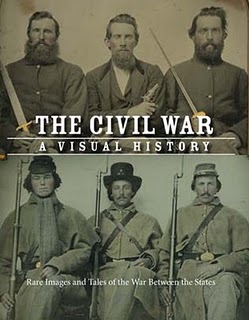 The Civil War, A Visual History: Rare Images and Tales of the War Between the States, Parragon Press, 2011, 225 pages, index, ISBN 978-1-4454-403, $14.95.
Parragon Press recently (September 27) published a fascinating and rare collection of photos (and documents) and diary excerpts from the Civil War. Arranged chronologically the images and words from the era join together to provide a powerful presentation of the Civil War. The images are fairly rare and there are many I can't recall ever seeing before. (I also wonder why the book was sent and need to pay better attention to the letter excerpts and see if any are from our Archive? If not it was awful nice of them!)
This is a very nice high quality book with glossy pages, jacket, and a high level of production quality. I would categorize the book as a coffee table presentation with significant historical value! And with a list price less than $15 it is a steal!