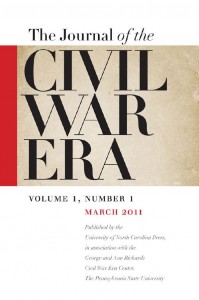 Been on a sabbatical of sorts working on an exciting research project that found me unmotivated mentally to post anything here the last 60+ days. So to the 12-15,000 monthly visitors to Soldier Studies, my sincere apology.
My latest issue of The Journal of the Civil War Era, Vol. 1 No. 3, arrived yesterday and I am pleased to report the journal has been a welcomed edition to Civil War scholarship and has not ignored Soldier Studies and military aspects of the war. I was worried that military and soldier issues would be left out, but that has not been the case.
In the current issue an interesting article caught my eye by Wayne Wei-Siang Hsieh, Total War and the American Civil War Reconsidered: The End of an Outdated "Master Narrative" as well Trophies of War: Material Culture in the Civil War Era by Joan E. Cashin that deals interestingly with soldier's behavior after the battle and the spoils of war, if you will. And finally, another article that looks interesting, but I have not read yet, is Jon Grinspan "Sorrowfully Amusing": The Popular Comedy of the Civil War .
I highly recommend the journal.