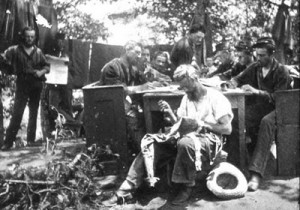 The impact of the weather on the Civil War soldier has not been properly addressed, notes Dr. Kathryn Shively Meier in an excellent article in the latest issue of the Journal of the Civil War Era. Meier's piece, "No Place for the Sick." Nature's War on Civil War Soldiers Mental and Physical Health in the 1862 Peninsula and Shenandoah Valley Campaigns, addresses the impact of weather and the environment on the soldier's morale and health, both physical and mental. Sickness and fatigue, exposure, and of course disease, directly impacted the army and at times strategy itself when 30% of an army is unfit for duty.
If you do a search in our database using the "category" browser you can find lots of good material on how soldiers discussed the weather. They often compared it to home and it seems almost every Civil War diary you come across is always full of day-to-day weather reports. The environment was a huge part of surviving the war for the average soldier. And as Meier points out, those soldiers who were proactive about taking care of themselves while on the march seemed to have fared far better than those who did not.
Dr. Meier is working on a manuscript/book length study and I cannot wait to see it.