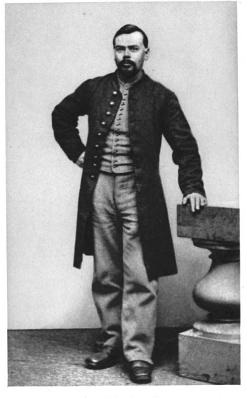 With my master's thesis completed and accepted I have had some time on my hands. So I have surfed the blogsosphere and came across another gem of a post. This time over at Faces of War (an excellent site!). Civil War blogger Ron Coddington posted a memorial given at the dedication of a monument in 1909 to honor James Melvin's three brothers who perished during the Civil War. The memorial dedication was published under the title of: The Melvin memorial: Sleepy Hollow cemetery, Concord, Massachusetts, a brother's tribute; exercises at dedication, June 16, 1909. It's a touching booklet of remembrances and salutes to their fallen comrades. But also some reflections on the nature of the war itself.
All three brothers served in the 1st Massachusetts Volunteer Regiment of Heavy Artillery, it was formerly the 14th Regiment Volunteer Massachusetts Infantry. Some of its men including at least one of Melvin's brothers died at Andersonville prisoner of war camp.
Mr. Coddington picked out an excellent memorial speech by Frank E. Farnham, who served with the regiment and knew the Melvins. In his speech or dedication, Farnham addressed the then current (1909) movement of State's Rights and Lost Cause theories that had evolved in the media and in the history books. [After the Farnham mega quote I included two other shorter quotes to consider.] Farnham clearly articulates that it was the cause of "Liberty" and not just liberty for the black man, but for all mankind, that drove [right word to use?] the Civil War. In essence he invokes, for me at least, the "American Exceptionalism" theme that seems prevalent in a lot of the Regiment Autobiographical Histories I have been reviewing and other memoirs and biographies by the soldiers. I don't know if Farnham is invoking slavery as a cause, though mentioned, so I'll post it and let you decide. I highlighted what I thought were some important points.
Comrade Frank E. Farnham
Mr. Toastmaster: I address you and our generous host and all these dear old comrades, and say that I am glad to add a word to a spirit which is getting scarce through the country, but which prevails here to-day, the old spirit of '61. In doing so, without any malice and without sounding any discordant note, I cannot fall in with the prevailing sentiment over the country, it seems to me, of the press, of the pulpit, the lecture room, the politician, the statesman, and even of some organizations, to obliterate all the difference between the right and the wrong of that conflict, and to assert that there were as much virtue and principle in that war on the other side as upon the side in which the brothers of our host to-day died. I cannot subscribe to that opinion. Apparently their minds have not changed. We must make all the concessions, and it will end, unless checked, — and I hope history will check it, — in putting their cause on a higher plane than ours. I never can subscribe to that, for theirs was the cause of slavery and nothing else.

I know it has become the fashion now to say that that was not the issue, although Alexander Stephens, perhaps the noblest rebel of them all, said it was, that slavery was the corner-stone of the Confederacy. I know it is the fashion now to say secession was the real issue. There have been plenty of wind and water wasted on that, have been in the past, and will be in the future; but there would never have been a drop of blood shed in settling that. And by the way, it is a question that never will be settled, because our forefathers attempted the mathematical impossibility of making a part equal the whole, of giving to the states the same rights as those of the whole nation in some matters, and that will never settle the question of right to secede. The Supreme Court has vacillated all round about it, and it is not settled yet. We are a failure, if that is all we tried for.

I, for one, think that this deluge of perverted sentiment, for so it looks to me, which crops out everywhere, can at least be delayed until we have followed these three departed comrades of ours. We must not give way to this. We cannot do it without stultifying ourselves and without decreasing the honor and insulting the memory of these comrades whom we honor to-day, and of all the others, for ours was the cause of liberty, and liberty not alone, as has been said, to the black man in this country, but to all men, to all races, for all time, and the proof of it would have been, Comrades, if it had gone the other way. Where, then, would Liberty have found a resting place on this footstool for her feet? The progress of the world would have been set back for centuries. Let us live and die in the delusion, if it be one, that there never was a cause more justifiable than the one that called us to arms.

How little war has accomplished as a rule, and how little excuse for it there is! Indeed, it does not settle anything. It is very rarely war settles what it starts out for. Why, even our Revolution, which we talk so much about, was undertaken mostly to settle the question of taxing colonies without their consent. I think there are many colonies taxed to-day without their consent. The War of 1812 started with the slogan of no impressment of American seamen, and when they made the peace of Ghent there was not a word said about it, and there has not been one said since. The war with Mexico, and I should include that with Spain if there were not some Spanish-War fellows here, perhaps, it seems to me had no great principle behind it, and has no great place in history. AH honor to those who do their duty. But our war was a war of self-defense, and self-defense is permitted to the nation as it is to the individual, and it is the only case in which blood can be shed justly. Speed the time, all men who have seen real fighting will say, when all these questions will be settled without the shedding of blood, which really does not settle any question. When two men who have a joint interest, we will say, fall out and fight, and one whips the other, the other man is not convinced; he is mad, and it takes a court of law to settle it. It will take international courts in the future to settle questions which have to do with war. But let us be true to the conviction, and to the delusion, as I said, if it be one, that we fought for one of the most righteous causes that was ever struggled for, and be proud, as we have been, to our dying day that we played at least a humble part in one of the most glorious war dramas that was ever acted in this world's history.
Now lets consider what another speaker (J. Payson Bradley of Company B) at the memorial had to say. I have highlighted the key points, at least in my opinion.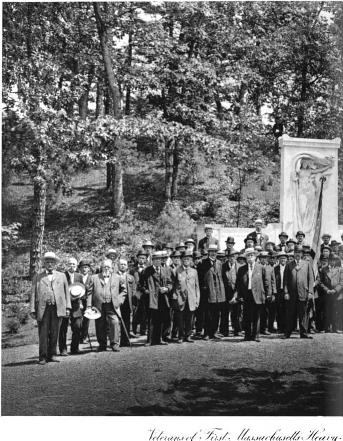 Comrade J. Payson Bradley (Co. B.), Boston, then gave the following impromptu address: —
'Comrades of the old First Massachusetts Heavy Artillery and good friends assembled here to-day: As the youngest member of the old regiment present, and as one who forty-five years ago to-day was in front of Petersburg, where one of the Melvin boys lost his life, it has become my sweet, sad duty, by the request of the surviving brother of that family, to address you on the occasion of the dedication of this memorial to his three brothers, members of Company K of our regiment, who went out but did not return. Our regiment, it seems to me, always had sudden calls to duty, and I would not be true to the patriotic tradition of its birthplace, old Essex County, or to this family whom we honor to-day, or to my own family, if I did not act the part of the minute man by responding at almost a moment's notice to a duty such as we are performing.

Over one hundred years ago this part of our country families that were represented by the entire male membership, but there were not many in which four brothers, leaving behind a widowed mother and two sisters, went forth with their commendation and blessing and fought for the Union and the flag, and you will find still less, that, when the war was over, had only a single member to return and keep in lasting memory the patriotic service which three of them sealed with their lives.
And finally, the closing remarks of George B. Clark Somerville, who also served with the regiment:
Comrade George B. Clark, Somerville
Standing nearest was a monument built by the government, about thirty feet highf and on it was this simple inscription: "11,800. Pro patriae." Eleven thousand and eight hundred died for patriotism. They died for love of country, for you and for me.
A 1909 memorial dedication would seem like the perfect venue for old veterans to express their emotions and feelings. But what has to be considered is this the right document to use when attempting to assess something as complicated and problematic as soldier motivation for fighting and the causation of the war? I think there are reasons to suggest that it is a proper document and that it might not be. Factors to consider: sentimentalism, pragmatism in preserving for posterity their place in memory, historical accuracy (are they too darn old to be trusted? Kidding…), and sincerity in expressing what they truly believed. A private letter to a friend seems more trusting than a public speech. I think we can take the speeches as long as we obviously use them with other sources to provide context to the debate. I like that these men expressed what they believed, at least in 1909, and how they felt about one of the great conflicts in American history.