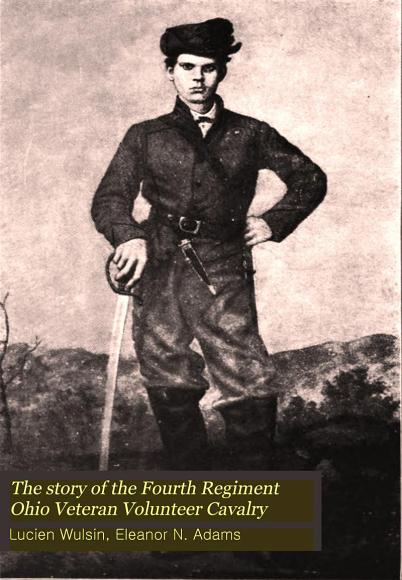 I have read, looked over, examined, at least several hundred "original" regimental histories and this is possibly the best "Preface" to a regimental history I have yet to encounter. Those original "autobiographical" regimental histories are so important and can help us understand "memory" and the Civil War, especially with regard to the soldier.
Lucien Wulsin, The story of the Fourth Regiment Ohio Veteran Volunteer Cavalry (1912):
THE typical soldiers of our Civil War were youths, who, when their country needed them, laid aside the yard-stick, left the clerk's stool in the dingy office, or exchanged work on the farm for the work of marching, foraging, fighting. The lad who a short time before was busied with the acute angles of a geometry proposition, concentrated his attention on the cleaning, loading and firing of a gun at any and all angles. The boy who a year before was dog-earing his school books or pouring over a Latin exercise, spent his evenings writing letters or in his diary, with a box and a candle stump for desk equipment.

At first the novelty of camp life, of bright uniforms, of military drill excited him to dreams of future greatness; he knew that the attention of the whole world was focused on him personally; he heard much of a soldier's duty, and of praise for his progress in military tactics from the general orders of his commanding officer. So he swaggered a bit— was eager for dress parade and intensely interested in the impression his regiment made.

Gradually he evolved into the seasoned soldier, and as the work grew more exhausting, dangerous, and life grew grimmer, he found himself too close to and too vitally concerned with the big issues to comment much on them. It was not his business to talk, but to work, and where history gives us glowing and stirring narratives of great battles, the common soldier has left a few laconic lines in his diary, and' tells of the trivial things in his letters home. After the lapse of years these few lines often serve to galvanize his memory—he lives over again stirring events, has time now to feel, where in the stress of battle he must conserve all his energies for action. He recalls now that he was just a strong, young fellow with youth's appetite for food, pleasure and adventure, often homesick for the comforts and companionship of his little home town, but willing to endure his new life because he was a good American citizen, born with a sense of liberty, equality and justice; willing to fight for their maintenance.

It was the enthusiasm and endurance of the American boy from seventeen to twenty-two years of age which really sustained the Union. It is to commemorate such a part, played by the soldiers of the Fourth Ohio Volunteer Cavalry, that this work has been compiled as a memorial to their youth on the fiftieth anniversary of their call to arms.