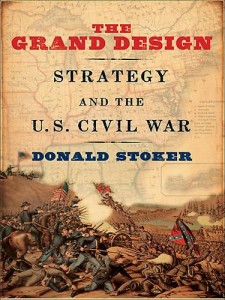 The Grand Design: Strategy and the U.S. Civil War
Donald Stoker
(Hardback, 512 pages)
I'm going to go out on what should be a well occupied limb ready to break under the weight and say that Donald Stoker's The Grand Design: Strategy and the U.S. Civil War will win award(s) next year. Stoker's book is not just keenly researched, but he handles the war policies and strategies of the North and South in a fairly unique way.
From the publisher:
In The Grand Design , Donald Stoker provides a comprehensive and often surprising account of strategy as it evolved between Fort Sumter and Appomattox. Reminding us that strategy is different from tactics (battlefield deployments) and operations (campaigns conducted in pursuit of a strategy), Stoker examines how Abraham Lincoln and Jefferson Davis identified their political goals and worked with their generals to craft the military means to achieve them–or how they often failed to do so. Stoker shows that Davis, despite a West Point education and experience as Secretary of War, failed as a strategist by losing control of the political side of the war. His invasion of Kentucky was a turning point that shifted the loyalties and vast resources of the border states to the Union. Lincoln, in contrast, evolved a clear strategic vision, but he failed for years to make his generals implement it. At the level of generalship, Stoker notes that Robert E. Lee correctly determined the Union's center of gravity, but proved mistaken in his assessment of how to destroy it. Stoker also presents evidence that the Union could have won the war in 1862, had it followed the grand plan of the much-derided general, George B. McClellan
Books have dealt with how and why the North won and the South lost, tactics, and strategy, but no other book I have read brings it all together within the political and strategic grand policies(or lack thereof) of each.
Stoker brings the startling yet obvious realization quickly to light when he points out that for a period of time when the war started Lincoln and the North had no real strategy. What was the North's political objective? How and why does it change and how did this inform military strategy, operations, and tactics? If the North could have developed a grand strategy quickly and placed the proper instruments of war into place they could have won sooner. The South on the other hand had a clear grand strategy, and if I read Stoker correctly, but they were uneven in employing it. What is also clear, though not original in this work, is the failure of Davis and the evolution and success of Lincoln as a "grand strategist."
I could go on and on about this truly unique and excellent work. I highly recommend it. Bravo Mr. Stoker.