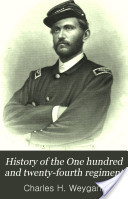 Charles H. Weygant
Journal printing house, 1877
To read this book for free.
Lt. Col. Charles H. Weygant is an ancestor of mine (my g-g-g uncle) and at the conclusion of the Civil War he was in command of the 124th New York Regiment. Originally named "The American Guard" by the founding Colonel, A. Van Horne Ellis, Weygant helped to raise the regiment and enlist volunteers. Weygant would be promoted to Colonel after the bloody battle of Gettysburg.
Colonel A. Van Horne Ellis received authority, July 11, 1862, to recruit this regiment; it was organized at Goshen, and there mustered in the service of the United States for three years September 5, 1862. Part of the 71st Regiment of the National Guard formed its nucleus. September 1, 1864, Mr. Charles Gale of Mooers, Clinton county, received authority to recruit a company, the Mooers Company, which later was assigned to this regiment and became part of its company E. February 28, 1865, a number of men of the 1st U. S. Sharpshooters were transferred to this regiment. June 2, 1865, the men not to be mustered out with the regiment were transferred to the 93d Infantry.
The companies were recruited principally: A at Newburgh, Cornwall, Chester and Goshen; B-Goshen Company-at Goshen, Warwick, Florida and Newburgh; C-Cornwall Company- at Goshen, Cornwall, Newburgh, Monroe and New Windsor; D at Warwick and Goshen; E at Goshen, Crawford, Otisville, Wallkill, Newburgh, Bullville, New Windsor, Mt. Hope and Port Jervis; F at Port Jervis and Deer Park; G at Washingtonvil1e, Blooming Grove, New Windsor, Monroe, Newburgh, Craigsville and Chester; H at Montgomery, Walden and Goshen; I at Newburgh and Windsor, and K at Wallkill, Goshen, Middletown and Newburgh.

The regiment left the State September 6, 1862; it served in Piatt's Brigade, Whipple's Division, from September, 1862; in 1st Brigade, 3d Division, 3d Corps, from October, 1862; in 2d Brigade, 1st Division, 3d Corps, from June, 1863; in the 1st Brigade, 3d Division, 2d Corps, from March, 1864; and it was honorably discharged and mustered out, under Col. Charles H. Weygant, June 3, 1865, near Washington, D. C.

During its service the regiment lost by death, killed in action, 9 officers, 93 enlisted men; of wounds received in action, 2 officers, 45 enlisted men; of disease and other causes 1 officer, 94 enlisted men; total, 12 officers, 232 enlisted men; aggregate, 244; of whom 11 enlisted men died in the hands of the enemy.

Source: New York in the War of the Rebellion, 3rd ed. Frederick Phisterer. Albany: J. B. Lyon Company, 1912.
The 124th was one of eight regiments which led Hancock's charge at Spottsylvania, and there Colonel Weygant was wounded in the arm, while in the act of planting a Union flag on the enemy's inner line of works, after his regiment had captured four guns, over three hundred prisoners and a rebel flag. His wound was so serious as to keep him from duty about seven weeks. At the battle of Boynton Roads, later in 1864, while in command of a force consisting of the One Hundred and Twenty-fourth New York and Berdan's Second Regiment of Sharpshooters, he was again wounded, being shot in the left side, but was back on duty again in a few weeks. His regiment, acting as sharpshooters, took a conspicuous part in Grant's last campaign, skirmishing with the enemy's rear guard nearly every day from Petersburg to Appomattox, capturing many prisoners, guns and wagons, and losing twenty men, killed and wounded, in the last encounter between the Army of the Potomac and the Army of Northern Virginia, the day preceding Lee's surrender. At the close of the war he took part in the Grand Review, and then returned home, with a record as a valiant soldier of which he might justly be proud.
In 1877 Weygant proudly published his history of the regiment and ever since it has gained praise for his readable writing style, depth of analysis, and much more. Weygant's book is full of important details and short stories of daily happenings thus making it one of the more important regimental histories of the period.