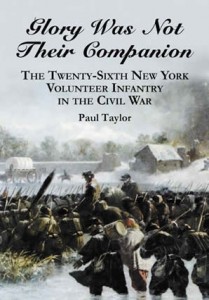 Historian and writer Paul Taylor has written a very nice portrait of a previously little known regiment. The 26th New York Volunteer Infantry served for 2 years, saw some hard service and marches, and tough fighting at the battles of Cedar Mountain, second Bull Run, and Fredericksburg. Known also as the "Second Oneida Regiment," the unit was organized at Elmira by Colonel William H. Christian on the 17th of May, 1861. During the unit's term of service it suffered 365 wounded and 145 killed and/or missing. Three hundred and fifty men were mustered out of service on May 20, 1863.
Taylor's book is well researched, finely written, and fills a void in Civil War regimental historiography. The First chapter details the regiment's formation and gives some general overview of motivation for enlistment along with other tidbits of information. Eleven chapters handle the regiment's two years enlistment with a concluding, and nicely written, "Postwar Years," that is not always found in regimental histories and is a nice touch that I really enjoy. Knowing what happen to some of the men you got to read about after the war is a nice way to bring closure to the narrative.
Book Specs:

Glory Was Not Their Companion
The Twenty-Sixth New York Volunteer Infantry in the Civil War
Paul Taylor
Print ISBN: 978-0-7864-4924-8
54 photos, maps, appendices, notes, bibliography, index
231pp. softcover (7 x 10) 2010 [2005]
Price: $29.95
Click here for more information

The new softcover design of McFarland books brings the price way down from their traditional library binding. Though not the quality, it still is a nice production, cover-art, ect.