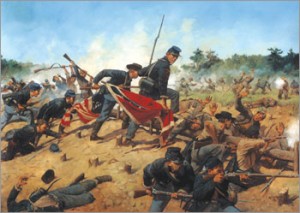 On August 16, the 39th Illinois Volunteer Infantry captured the enemy works at Deep Run — despite a 200 yard crossing under heavy fire. New in the database is a written account of the attack by Captain Homer Plimpton of Company G. He wrote the letter weeks later on September 16th, 1864 from the confines of the Headquarters of the 39th Regiment:
Shall I tell you of an interesting scene I witnessed on the battle ground at Deep Run on the 16th of August? It reminded me of home & of a mother's influence.

It was when the battle was at its greatest heights. We had just carried the enemy's works at the point of the bayonet & were fighting inside the entrenchments. About me the dead and dying were strewn on every side. All at once my attention was attracted by a soldier dressed in gray lying in the trench, to all appearances mortally wounded. In his hands he held a Bible to which his attention was wholly turned. Around him the battle was raging fearfully, but he heeded it not, his eyes were fixed intently upon the pages of that book, perhaps he was looking upon a Christian home with its family altar , where he had often listened to the reading of that holy word and the earnest prayers of a father or a mother. Although he was an enemy, and my attention was mainly occupied with the fighting going on around us, yet I could not but admire that death scene on the battle field.
To read this letter click here. To see a list of all Captain Homer Plimpton's letters click here.