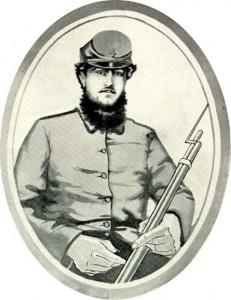 The 4th North Carolina Infantry Regiment completed its organization in May, 1862, at Camp Hill.
On May 6th of 1864 the 4th Regiment found itself on the extreme left of the Confederate line at the Wilderness. On the 7th they were moved to reserve and checked Union General Burnside's movement between Ewell and A.P. Hill's Corp. Ramsuer's Brigade saw heavy fighting at Spotsylvania on May the 11th and 12th and drove the enemy from the captured Mule Shoe on the 12th. (source)
Walter Battle was a private in the regiment, and wrote the following:
Our brigade after, we had charged and run the Yankees from their works, was not long enough to cover the line held by Johnston's division, so the Yankees held a position on our right, upon a hill which enabled them to keep up an incessant enfilading fire upon us; two thirds of the men which we lost were done in that way. Men were killed while squatting just as low and as close to the breastworks as it was possible for them to get. Tom Atkinson, poor fellow, was shot through the head, right by my side, another man in Company "E" was killed on the other; the man in front was shot through the body. I did not realize then what a hot place we were in. It was a wonder to me that the last one of us was not killed. We were exposed to that fire for twenty-two hours. Gen. Rodes sent word to Gen. Ramseur he would send his reinforcements, but Gen. R. sent him word that he had taken the position and he was confident his brigade would hold it. All he wanted to let us alone and send us ammunition, which he did. I shot away 120 rounds of cartridges myself, three cartridge boxes full.