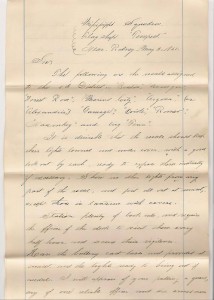 Mississippi Squadron
Flagship Tempest
Near Rodney May 2,1865
Sirs,
The following are the vessels assigned to the 5th district: Benton, Avenger, Forest Rose, Mound City, Argosa (or Alexandria), Gamage, Oriole, Romero, Naumkeg and tug Fenn.It is desirable that the vessels should keep their lights lowered and under cover with a good look out by each ready to expose them instantly if necessary. Show no other lights from any part of the vessel, and put all out at sunset, except those in lanterns with covers.
Station plenty of look outs and require the officer of the deck to visit them every half hour and secure their vigilance. Have the battery cast loose and provided at sunset and the lights ready to bring out if needed. I will approve of your putting a guard say of one reliable officer and six armed men with rations on each small local cotton and supply trader to prevent its being seized to ferry over Jeff Davis and his cabinet and at the same time to get information and endeavors of to intercept them. Search carefully all trading steamers coming out of rivers and bayous on the east side of the Mississippi. It might be well for gunboats on their beats to follow transports at a judicious distance and at times to turn unexpectedly and go back also to drop armed boats at certain places.
Hold out to officers and men the encouragement of promotion and reward for the capture of Jeff Davis which would be the great finishing blow to the war.
Dispose of your vessels and boats to the utmost advantage making every effort to capture the rebel government and other officials and leaders. Military operations will facilitate yours, and the combination of Army and Navy means between Vicksburg promises most favorable results.
S.P.Lee
A.R. Admiral
The back of the letter says: U.S.S. Avenger 3rd May 1865 Copy furnished comdg officer U.S.S. Tyler (then signed by what looks like) JWCAULLY Lt Comdr USN (tough signature to read)