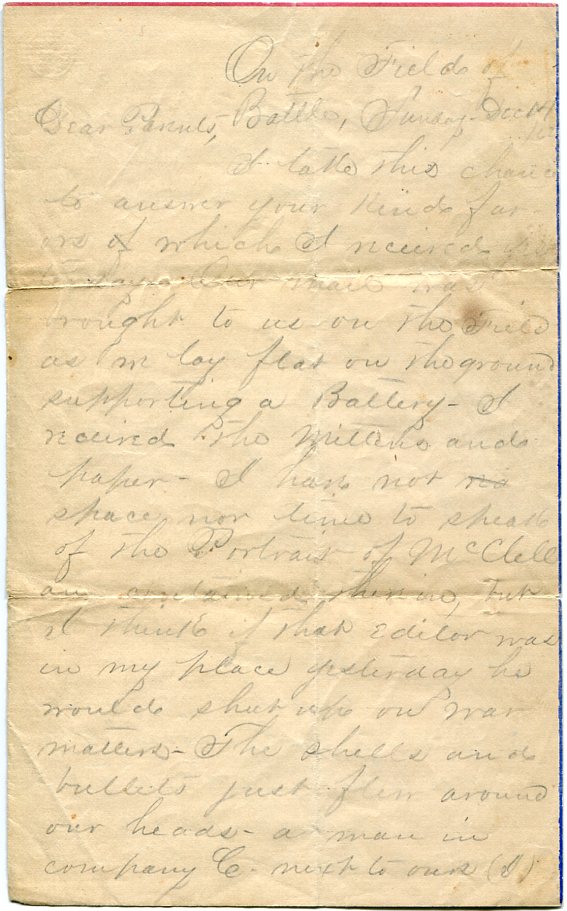 Henry Frank Babcock, Company I, of the 122nd New York Infantry, to his parents, written during the Battle of Fredericksburg. Letter reads,
On the Field of Battle,
Sunday, Dec 14/62

Dear Parents,
I take this chance to answer your kind favors of which I received yesterday. Our mail was brought to us on the field as we lay flat on the ground supporting a battery. I received the mittens and paper. I have not space nor time to speak of the Portrait of McClellan contained there in, but I think that if the editor was in my place yesterday he would shut up on war matters. The shells and bullets just flew around our heads. A man in company C next to ours (I) had his knapsack torn from his back by a 32 lb shell. Several in our Regt. were wounded, our Hiram Cole in our company and my file closer was wounded in the leg. One poor fellow just a head of us had his head torn off close to his shoulders by a ball. The fighting has been going on for three days and they are at it now. This being the fourth day. The greybacks are in the woods a great advantage but we will fix them. You can bet it makes a fellow feel "loose' when those shells burst over our heads and the pieces sing around his head like so many bees. But I must close this now. And when we get through this fight if I come out safe I will write again. Excuse all mistakes. For I write in haste. From your ever afct son, Frank.
Private Hiram Cole was mustered into "I" Co. NY 122nd Infantry on 8/16/1862. He was later killed on June 1, 1864 at the Battle of Cold Harbor.
A "file closer" is a commissioned or noncommissioned officer posted in the rear of a line, or on the flank of a column of soldiers, to rectify mistakes and insure steadiness and promptness in the ranks.