SoldierStudies.org: One Soldier's Story



By Steve Wick

Henry Prince's Civil War Diary

The memorial stands on a curve in the road near the American Legion Post, a silent piece of granite atop a patch of freshly cut grass. Cars pass it day after day, year after year, and it seldom attracts a visitor.

But those who stop to admire it are rewarded, for this monument on Route 25 in Southold speaks for itself. On its four sides, in long columns, are names of local men who fought in the Civil War -- 83 names, including several pairs of brothers, and multiple sets of cousins.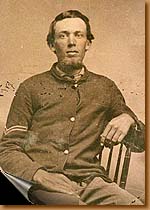 They were 83 men from a small town at the eastern end of Long Island. Men who on their enlistment papers said they were farmers, fishermen, mariners, butchers, laborers, carpenters, teachers and students. Men who were barely 20 years old, and men who were approaching 40, with children at home. Men whose family histories were, by the start of the war in 1861, more than 200 years old in this old English town -- men with names like Horton, Tuthill, Booth, Case and Wells. And men whose histories in America had begun when they got off a boat a few years before.

Perched on the granite pedestal rich with names is the concrete statue of a soldier. Clutching the barrel of his rifle with both hands, he is the vision of a man who has seen men die, seen whole regiments slaughtered in the course of a long, bloody day.

"When you look at the records, you can see that many of the enlistment dates are the same, or just a few days apart," says Southold Town historian Antonia Booth. In an old ledger she keeps in her office are the names of dozens of men who enlisted on one day -- Aug. 21, 1862 -- and formed the heart of a new regiment, the 127th New York, Company H. "They went to the Presbyterian church in Southold on that day and heard a call for enlistment and signed up."

On Long Island, monuments to American wars and to those who fought in them are as ubiquitious as church steeples and baseball fields. They honor soldiers from the Revolution to Vietnam. Some are grand, flooded with light at night, towering over the land around them, unveiled with great fanfare and speeches by politicians and veterans. Others are small, weatherworn and off the beaten track. They sit by roads and in town parks, seldom attracting more than a few curious people. These monuments have stories, too, but not many people know of them, or look at the names carved on them, never connecting the flesh-and-blood histories of men who lived in their towns and went off to war to people who might live there today.

This is the story of one of those monuments, the Civil War memorial in Southold. It was erected in 1887 with great fanfare, parades and speeches. In a town that was then nearly 250 years old, the day of the unveiling was one of the biggest in its long history. On that day, hundreds of people stopped what they were doing and walked or rode in their buggies to stand around the monument and hear all 83 names read out loud. As they listened, drums played and bugles sounded, and the sweet music floated across the surrounding farmland like the ringing of church bells. On that day, everyone knew someone whose name was carved in granite.

Beyond being a biography of a war memorial, this is also the story of one of those 83 names, a young farm boy who enlisted in the U.S. Army that summer of 1862. His name is carved on the south side of the pedestal, third from the top -- H. W. Prince. By the time the war ended in 1865, Henry Prince would know that 29 men from his hometown -- out of a total of 109 who enlisted -- had been killed.

Prince was one of the lucky ones. He came home.

* * *

Late in the summer of 1862, when the war was going badly for the North, a charismatic man named Stewart Lyndon Woodford came out from Brooklyn to drum up support for the war. Accounts say he was a powerful speaker, and dozens of men of enlistment age came to hear him sermonize on why they should fight for the Union. Woodford had a reason to come to Southold -- his mother, Susan, was a Terry, who were among the first Europeans to settle there. His ancestors were buried in the handsome cemetery that sat next to the church.

On Aug. 21, dozens of men lined up to sign the enlistment ledger. One of them was Edward Foster Huntting, whose grandfather, the Rev. Jonathan Huntting -- a tall, square-shouldered preacher remembered as having a stern countenance and a grave demeanor -- had for 22 years been the church's minister. Another enlistee that day was Prince, who was 23 years old and bored with farm chores. Over the next two weeks, as Woodford crisscrossed the town, 109 men enlisted.

By all accounts, Prince was an ordinary young man fated to witness history up close. His father, Orrin, was a fisherman who, when his son was 10, bought a 30-acre farm that sat on a bluff overlooking Long Island Sound, just east of the Horton's Point Lighthouse. Even as he farmed his new land, Orrin continued to fish, running seine nets in the Sound and bay so he could catch enough bunker to use as fertilizer on his fields.

The family grew potatoes, wheat, corn, oats, rye and barley. The young Henry cut wood, husked corn, hauled manure and bunker to the fields, and helped with the butchering. Many days he would accompany his father fishing and helped him set his seine nets. When he was 17, he went to work in a Brooklyn grocery store that sold the Prince farm's potatoes. But after two winters in Brooklyn, he came home.

Even as a teenager, Prince was a prolific writer. Boxes of his diaries, journals and letters are part of an extraordinary collection housed at the Suffolk County Historical Society in Riverhead. At 14, he wrote his first entry: "Henry W. Prince's diary begun 28th Apl., 1854, Southold, L.I., State of New York." Two weeks later, while visiting his great-grandfather's farm in Orient, he recorded an eclipse of the sun. He wrote almost up to his death in 1925 -- writings that chronicle his life on a farm, as a fisherman, Civil War soldier, town businessman, elected official, banker and small-town man with a keen eye. Perhaps no man of his time on Long Island ever wrote down so much about what he saw, what he heard, and how he felt.

All of his writings were collected by Helen Prince, who lives in Southold and whose husband was a descendant. She organized the collection, prepared indexes to help researchers, and enclosed Prince's precious Civil War letters -- written in ink on folded paper while he sat in camps across the South -- in folders for their preservation.

Prince first met Woodford when he spoke in Orient that summer of 1862. Prince went again to hear him at the Presbyterian church on the night of Aug. 21, and this time Henry was one of 23 young men to walk up to the altar and ink his name on enlistment papers. They and others formed the nucleus of a new company -- H, which was affiliated with the 127th New York Regiment. A few days later he traveled to Manhattan to be sworn in. From there, he wrote home, addressing his letter, "Good Morning, Mother."

"I now must go to head quarters at 814 Broadway, from there to Staten Island and the future with our God," he wrote. "I expect we will go to Virginia, so do not think it strange if it is a week or 2 before you hear from me. I think the Rebellion will soon be crushed. Don't worry about me. I have the same protector as if I was Home. Give my love to all, from your Son, Henry."

Life in the Army was a shock to a young man used to eating well and living comfortably. At a camp on Staten Island, wrote Helen Prince in an introduction to a published collection of Prince's letters, "they were marched to a large cookhouse, and after waiting their turn by companies, were given a cup of tea and a slice of bread . . . They slept at night in crowded rows on a hard barracks floor, the tiers of bunks, three high, not sufficient for their number . . . The men were soon issued their clothing, which consisted of overcoat, pants, blouse, two woolen shirts, two pair of woolen drawers, two pair of heavy woolen socks, heavy cowhide shoes, woolen blanket and a rubber blanket with a slit in the middle so it could be worn as a cape when it rained."

Within a few days, Prince was aboard a crowded train en route to Washington, D.C., and the bloody war beyond.

Just before Christmas, Prince wrote home, boasting that he had met a large group of "Southold friends," including Oliver Vail, who was now an Army captain. Even as he told his parents he had been promoted to corporal, he said he was losing faith in the war effort.

"I have but little faith in our government," he wrote. "I am afraid we are ruined soldiers, are getting very tired of this war. The soldiers are Patriotic, would fight better if our Generals were better. It is not the men's fault, but there is a wrong somewhere. But I trust something will yet be done."

Throughout the fall and into early winter, Prince stayed in a camp in Virginia, close to Washington. Occasionally, according to his letters, his company was rousted out of its boredom and sent chasing rebel troops, but there were no conflicts. All the while, he wrote home, telling his family everything he saw, from the farm animals to the weather. In return, he received letters and fat packages from his family.

In a long letter to his parents dated Jan. 1, 1863, he wrote that he spent New Year's Day eating smoked eels his mother had mailed from Southold, and he wondered out loud if they had spent the day at a friend's house, as they always did. And he brought up a subject evidently dear to his heart -- slavery.

"Today, Lincoln's Proclamation goes into effect," he wrote, referring to the Emancipation Proclamation, which freed slaves -- on paper, at least -- in the Confederate states. "I am afraid it will not do much good as our armies don't seem to succeed very well. I trust something will be done by spring, but see very little to encourage us. I put very little confidence in men. The North is desperately wicked as well as the South, but Slavery is a curse."

On Nov. 17th, having been moved for months around the South like a pawn in a bloody game, Prince wrote his mother from South Carolina: "As this is my 24th birthday, I will devote part of the day in writing to you. I can hardly realize that I am so old. 24 years ago today I expect you felt proud of your Boy Baby. Do you rejoice today that he is a soldier in his country's service? Many changes have taken place since my first birthday. God only knows how many of us that are alive today will see 24 years more. All is in the dark."

Nine days later, Company H celebrated the nation's first Thanksgiving -- named a national holiday on orders of President Lincoln -- with a shooting competition. In a letter written in early January, 1864, he wrote his mother how happy he was with the Christmas gifts she had sent him -- an orange, a pear, some candy and a shirt.

And later that month, he informed his mother that blacks would soon be allowed to fight in their own regiments. "I believe it right and I am glad the Negro can fight for his freedom," he wrote. A few days later, in another letter home, he said his company had attended a poetry reading, "followed by a debate about the white man's treatment of the Negroes compared to that of the Indian. The Negro was considered to have fared better."

By midsummer, 1864, Prince was writing home to ask about the family's potato crop. He was bored stiff, writing home every few days as well as jotting down his thoughts in his journal. On Aug. 15, he wrote that he had received a copy of the funeral service back in Southold of a soldier with whom he had enlisted on that day in August, 1862 -- Edward Huntting, the preacher's grandson. He was killed Feb. 20, 1864, two months shy of his 21st birthday. The town ledger kept in Booth's office in Southold reads "his body was left on the field and nothing more is known of it. This was his first (and last) battle."

Late in the fall, still in South Carolina, Prince, in a letter to his mother, said he yearned for a "glorious peace," and he said he missed "my native Isle and those I love." Then the second national Thanksgiving came around, and he noted that he ate sweet potatoes and chicken. In a letter back to him, his parents told him his aunt in Southold had died and the year's potato crop was dismal, portending a hard, cash-poor winter. The year 1864 was nearly over.

Soon, the 127th -- with Woodford, the man who had traveled to Southold to recruit troops, as its commander -- was sent into action against rebel forces guarding railroad lines near Charleston. The regiment now included the 55th Massachusetts, a black regiment. Blood was being shed, and Prince saw it and wrote about it both in his journal and in letters home. In one hot battle, the 127th lost 57 men; Company H lost three.

In early December, four members of Company H were killed and 24 wounded in another fight. In a letter to his parents, Prince wrote of a "terrible but glorious victory . . . Thanks to Divine Providence that I am alive this morning." For years, Prince's family kept a pair of drawers with a bullet hole through them that he was wearing on the day of the fight.

By February, the war nearly over, Prince wrote his mother that he had met General William Tecumseh Sherman, whose troops had burned their way into the deep South, who he said "looks more like a farmer than so good a general." And he mentioned the death of another Southold soldier, George Latham, of Orient, who, like Prince, had enlisted on Aug. 21, 1862. The Lathams still farm in Orient.

The war ended while Prince was stationed in Charleston. He was there when he heard, on April 19, that Lincoln had been assassinated. By June, Prince wrote "To All at Home" that he would soon be returning. He was mustered out of the Army on June 30 and boarded a steamer for New York.

On July 10, Prince set foot in Southold for the first time in nearly three years. On the 15th, he and his father went fishing.

* * *

It took a few years to get his bearings, but soon Henry Prince was earning a good living as a traveling salesman. In November, 1867, he married a Mattituck girl, Jenny Wells. Their first child, Anna, was born in 1870. Soon, he and his brother, Orrin, bought a general-merchandise store in town.

With so many dead in a small town -- 29 in less than three years,which meant funerals averaged one a month -- the war's effects on Southold were not easily forgotten. In 1883, a group called the Ladies Monumental Union began to raise funds for the purchase of a monument. It took four years to reach their goal of $1,800, the purchase price of the statue and granite pedestal -- four years of potluck suppers, plays and concerts, with anyone giving $50 or more getting his name published in the local newspaper.

Town records show that the group wanted a monument that had a base five feet square and a pedestal eight feet in height, to be made of "the best Maine granite." Atop that the soldier's figure was to be six feet high.

It was unveiled on May 30, 1887, 22 years after the war had ended. Hundreds of people showed up on that day, including Prince, his wife and their three children. An honored guest was a 97-year-old veteran of the War of 1812 -- Samuel S. Vail, who arrived in a carriage, an American flag draped across his lap. The name of his nephew, Oliver Vail, was carved near the bottom of a long list of names on the west side of the pedestal.

After a parade, a canvas shroud covering the statue was pulled down by Edith Prince, Henry's daughter, who was to live until 1980.

When the applause died down, speeches were delivered, and then each of the names were read out loud, one after another, a long, slow roll call.

--This article first appeared in Long Island Life on May 25, 1997.

SoldierStudies.org holds no copyrights on this article.