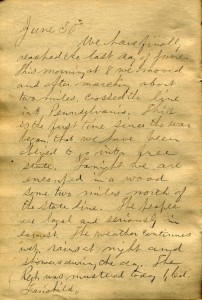 This final post in the short series of Nathanial Rollins who served in the Iron Brigade (2nd Wisconsin) Chronicles the days after the battle concluded and during which he started his time as a Confederate prisoner. Rollins would refuse to be paroled and spent the rest of the war in various prisoner of war camps. For more on this series see: 1, 2, 3.
July 3d: This morning at about 4 firing opened, and until one P.M. was kept up rather quietly, when there opened on our left a cannonading that for three full hours sounded like one perpetual thunder, and at intervals from then until dark has been kept up. Our fire has seemed to gain toward our left all day. This morning the rebel officers manifested a renewed anxiety that we should accept the parole but by the majority of us standing out obstinately the whole refused to accept it, and at about 10 A.M. we were moved about one mile to the rear. The day has been cool and clear. The battle still hangs undecided.

July 4th: This morning was clear. Lt. Dahl [?] and I slept under a tree last night without blankets, the same as we slept the night before. There are now with us 170 officers, ten of whom are from the 4th Brig, 4th Div, 1st Corps. Their autographs I will procure on the next page [not digitized]. Since morning, we have been moved up stream. At about noon we were fallen in and marched some two miles out on the Chambersburg road, halted an hour or two while the road full of rebel trains & wounded were passing to the rear. While stopping here a terrible thunder-storm came up and lasted until night. At 3:30 we were marched back toward Gettysburg to the road leading south toward Hagerstown, thence down this road three miles and halted for the night. There has been but little fighting today. We celebrated the Nation's birthday by singing patriotic songs and making ourselves jolly generally.

July 5: Sunday It rained nearly all last night. I, having no blankets or shelter of any kind, laid down on the bare earth and slept until wakened by the storm. This morning at 6 we were moved out & forwarded [?] on toward Hagerstown. But near the mountain we are now (2 P.M.) halted. Artillery & Infantry are going to the front. The road through this gap is said to be held by our cavalry. Genl. [Robert E.] Lee rode past an hour since. He is quite gray, wearing full beard, appears dignified and self-possessed. His salute was very elegant & soldier-like. He certainly has the external appearance of a General. He wore a blue loose coat & a black hat, sits finely on his horse. His face indicates high living. Capt. Baldwin of 2d joined us today, having been taken on 1st July 5 While marching, and at a bout 4 P.M., our artillery opened on the rebel rear some three miles behind us, but in full view. The firing was brisk and continued some time. After this they hurried us and hurried their train until at about 12 at night we reached Monterey Springs on the top of South Mountain's range. The rebels are making all possible speed for Va. 6th This morning the rebel officers tried the parole game again but it has all ended in smoke. Last night some officers & men escaped. At 6 A.M. we moved out and marched two miles past Waynesville and halted until 6 P.M. when we started again.

During the afternoon July 6th the rebel train has been passing as fast as they could drive. This is about the last of this book and while under rebel protection I must use paper to continue this journal.